Elderly Mumbai couple seeks Presidential nod for 'active euthanasia'
The couple, Iravati Lavate, 79, and her husband Narayan, 86, fear that they will fall terminally ill and will not be able to 'contribute to society'. This has pushed them to write to the President for 'doctor-assisted death'.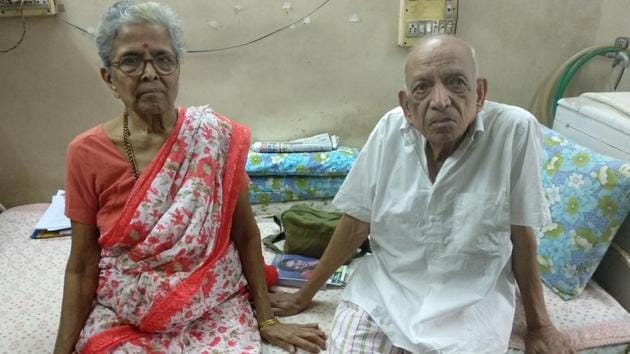 Updated on Jan 09, 2018 08:49 AM IST
Hindustan Times, Mumbai |
Aayushi Pratap
An elderly couple from Thakurdwar, near Charni Road, has written to the President's office, seeking permission for "active euthanasia", where a person is killed, usually by administering an overdose of pain-killers.
The couple, Iravati Lavate, 79, a retired school principal, and her husband Narayan, 86, a former government employee, have no major health problems. However, the fear of falling terminally ill and of not being able to "contribute to society" has pushed them to write to the President to seek permission for "doctor-assisted death", they said.
The couple does not have any children. When HT visited them at their house, Iravati said, "Within the first year of our marriage, we had decided that we didn't want to have children. Now, in our old age, we don't want others to be liable for our condition later."
While present laws in the country do not allow active euthanasia, experts told HT the couple would have had a hard time even in countries that do because they don't have any life limiting disease.
Dr Roop Gursahani, neurologist, PD Hinduja and Research Centre, Mahim, who is part of a group advocating living wills, said even countries where active euthanasia is legal, the requisite is that the patient must have a terminally ill disease.
"Physician assisted dying is possible in a few countries, all democracies with very effective law and justice systems. However, it is reserved for terminally ill patients with unacceptable suffering," he said. He added that no one should to have to ask to be put to death because they have no family to take care of them in their old age. The couple's letter to the President says, "Both the petitioners are in reasonably good health, not afflicted by any serious ailment as on the date of this petition."
It adds, "'It is unfair to compel them to wait till some serious ailment/deformity bells befalls on them (us) and would urge that they may be saved from such a contingency by passing sentence of death." The couple wrote the letter on December 21. The President's office said it would take time to respond to the letter.
Lavate retired as an employee of the Maharashtra State Road Transport Corporation after working for nearly 30 years; his wife, an ex-principal of Aryan E S High School, Charni Road, was a science teacher for 37 years.
Lavate said he wrote to the president because the latter has the constitutional power to pardon life sentences, and should also have the power to allow 'right to death'.
A national discourse on euthanasia started in India in 2011, when the Supreme Court, while hearing the case of a nurse from KEM Hospital, Aruna Shanbaug, who was in a vegetative state for nearly 30 years, legalised passive euthanasia. Shanbaug was in a vegetative state since 1973 after she was sexually assaulted in the hospital premises. However, she herself couldn't benefit from the case as the petitioner in the case was not her kin. The nurses of KEM, who were caring for her after her family stayed away refused to allow euthanasia. Shanbaug died in 2015, while on a ventilator for several days after suffering from pneumonia. There have been applications, including one in 1997 from CA Thomas Master, a Kerala teacher, before Indian courts seeking permission for active euthanasia. The Kerala high court rejected the teacher's plea. He subsequently killed himself in April 2004..
Close Story