Police blame ULFA(I) for killings of 5 men in Assam's Tinsukia, outfit denies role
Six gunmen shot dead the five men in Kherabari village in Dhola in Tinsukia on Thursday evening.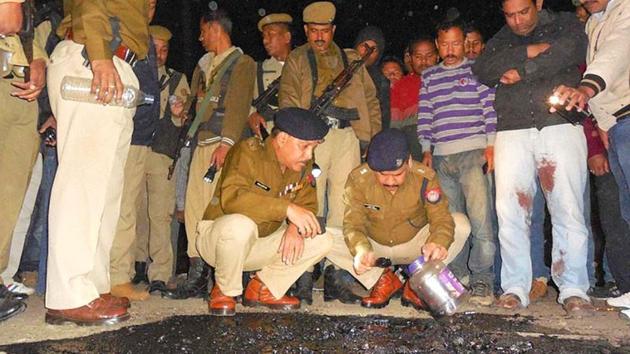 Updated on Nov 02, 2018 11:37 PM IST
Hindustan Times, Guwahati |
Sadiq Naqvi
A day after five Bengali speakers were gunned down in Assam's Tinsukia district, the police blamed the United Liberation Front of Assam (Independent) for the attack even as the banned outfit denied its role in the killings.
On Thursday, five people of Bisonimukh Kherabari village, including three from one family, were lined up and gunned down by six assailants, police said. Organisations representing Bengali speakers have announced a statewide shutdown on Saturday to protest against the killings.
"They may be denying it, but [the attack] looks like the handiwork of ULFA(I)," said Pallab Bhattacharya, director general, Special Branch, the intelligence wing of the state police.
Police officials said they have taken the sole survivor of the attack, Shadeb Namashudra, into preventive custody and were questioning him as part of their investigation.
"We know operatives of the group [ULFA (I)] have been active in the area," he said. "We have identified certain members suspected to be involved [in Thursday's attack] and efforts are on to nab them," he said.
However, in a statement emailed to news agency Press Trust of India (PTI), Romel Asom, a member of ULFA(I)'s publicity department said: "The ULFA (I) would like to make it clear to all authorities concerned that our organisation does not have any involvement in the firing incident last [Thursday] night."
No arrests have been made in the case so far, however, two pro-talk ULFA leaders, Mrinal Hazarika and Jiten Dutta were held for allegedly making provocative statements. The state remains on high alert with chief minister Sarbananda Sonowal appealing for calm.
"Strong action will be taken against the perpetrators of this dastardly violence. We will not tolerate such cowardly act," the chief minister said.
The killings coincide with the protests indigenous Assamese groups have been carrying out against the proposed Citizenship (Amendment) Bill, which proposes to grant Indian citizenship to religious minorities from Bangladesh, Pakistan, and Afghanistan.
Assam's indigenous groups oppose the bill as they feel it will marginalise them by encouraging more migrations of the Hindus from the neighbouring Bangladesh.
The Bengali speaking majority in the state's Barak Valley supports the legislation as it feel immigrants are mostly victims of partition and religious persecution in Bangladesh and hence they should be given Indian citizenship.
Bhattacharya said they were expecting an attack and had put security personnel on alert.
"Although we did not have any specific input, we were expecting that ULFA might take advantage of the situation in Assam. We had alerted all district SPs (superintendents of police) to beef up the security of Bengali neighbourhoods," he said.
Close Story
Personalise your news feed. Follow trending topics