Will not allow any anti-India activities: Myanmar to India
The visit has been projected by the external affairs ministry as part of the "Act East" policy of engaging with countries in Southeast Asia.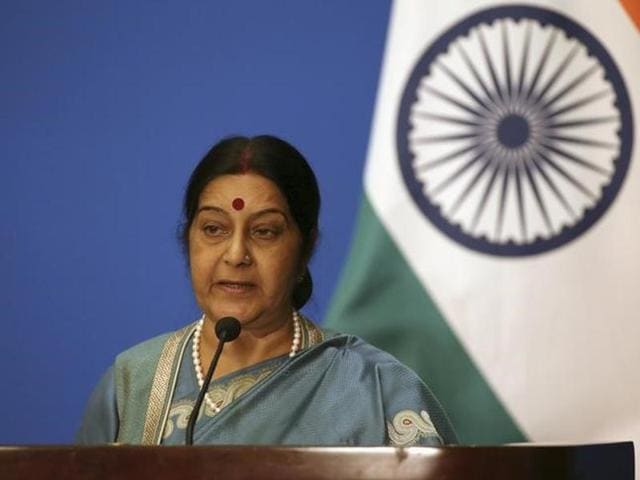 Updated on Aug 22, 2016 08:20 PM IST
Myanmar's leaders assured external affairs minister Sushma Swaraj on Monday that they would not allow the country's territory to be used by anti-India militants as New Delhi launched an effort aimed at charting a new course in ties with the Southeast Asian nation.
Swaraj flew to Myanmar with foreign secretary S Jaishankar and senior foreign ministry officials for a day-long visit, close on the heels of a five-day, high-octane visit to China by the country's de-facto leader Aung San Suu Kyi.
This was the first high-level visit from India after Suu Kyi's National League for Democracy pulled off a landslide win in last year's election and brought down the curtains on five decades of military rule. Suu Kyi had been miffed by India's decision to engage with the erstwhile junta, largely due to security concerns related to the northeastern states.
"The Myanmar side stated that activities of insurgent groups would not be countenanced from Myanmar territory and suggested that this issue should be addressed and taken forward through cooperation in established bilateral forums," a source told Hindustan Times.
External affairs ministry spokesperson Vikas Swarup said Myanmar's leadership had made an assurance "that they will not allow any insurgent groups to use any territory for action against India".
The cross-border activities of insurgent groups figured in Swaraj's discussions. Her visit comes days after Indian soldiers clashed with NSCN-K militants in Nagaland who were trying to sneak in from Myanmar. Reports suggested the Indian troops had crossed into Myanmar but this was denied by New Delhi.
India has a backlog to clear with Myanmar's new leadership in terms of catching up with it and addressing the mistrust that seeped in because of the close ties with the junta. China, which too had a pronounced tilt towards the junta, gave Suu Kyi a welcome fit for a head of state when she visited Beijing last week.
Swaraj congratulated Suu Kyi for her victory in the "first genuine election" and assured her of "all help". She said: "India is committed to strengthening your democratic institutions and socio-economic development of your people."
Swaraj also met President Htin Kyaw. Both sides agreed to identify new areas of cooperation with untapped potential. This includes agriculture, especially the import of pulses from Myanmar, power, renewable energy, skill development, health, education, transport and social development, sources said.
The two sides also discussed the upcoming BRICS-BIMSTEC Outreach Summit to be held in Goa. Swaraj also invited Suu Kyi and Kyaw to visit India.
Swaraj's visit assumes importance in view of China's active mediatory role in the ethnic conflicts of Myanmar, a declared priority for Suu Kyi, and its investment in massive economic projects. Chinese foreign minister Wang Yi travelled to Myanmar in April.
Myanmar is the only Southeast Asian country that India shares a land boundary with and it is an important cog in the NDA government's "Act East" policy. As Myanmar shares a 1,643-km boundary with four northeastern Indian states, many militant groups use the country as a safe haven.
"In my view, this is an important reach out effort. More than the geopolitics of it, the bilateral components are very significant. There are key security issues to be discussed," said M K Bhadrakumar, a retired diplomat and analyst.
Close Story