'Wish to bury our acrimonious past': DMK truce message a eulogy to Jaya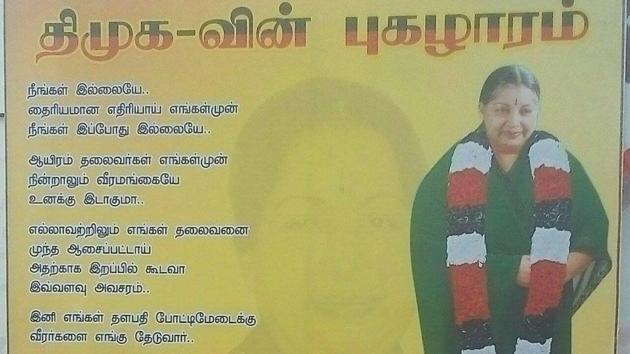 Updated on Dec 07, 2016 02:41 PM IST
A rare, public eulogy of former AIADMK chief J Jayalalithaa by her most vitriolic political opponent, DMK, has potentially raised hopes of better relations between the two parties which have fought some of the most ugly battles in Indian politics.
A placard, with a paean written in Tamil, was put up by DMK workers on Tuesday at Marina Beach, providing a glimpse of the opposition party's changing views on the former chief minister who passed away in hospital aged 68.
"You are no longer there to take us on courageously," the DMK said. "Even if there were a thousand more leaders ready to stand against us, will anyone be equal to a warrior like you?
"While we saw you as a warrior on the field of political elections, our commander-in-chief (Karunanidhi) and general (MK Stalin) had nothing but your well-being in their hearts," the party wrote, in stark contrast to the bitter attacks on one another over the last two decades.
DMK patriarch M Karunanidhi, who is himself admitted to a hospital for an allergic reaction, issued a statement mourning her passing away on Monday.
His son, party treasurer and leader of the opposition MK Stalin, was more emotional, saying the death of Jayalalithaa "was an irreparable loss for the people and state of Tamil Nadu".
His sentiments were appreciated by Jayalalithaa's party. When Stalin went to pay homage at the Rajaji Hall on Tuesday, AIADMK cadres in their thousands cheered him on.
Read | Jayalalithaa was an iconic leader, irreparable loss to Tamil Nadu: Stalin
Jayalalithaa and Stalin had exchanged courtesies after the former returned triumphantly to power in the assembly elections, leading many political commentators even then to believe the adversarial stance between the two Dravidian majors may be finally thawing.
"We wish to bury our acrimonious past, and forge a new path ahead," DMK spokesperson C Saravanan told HT after Jayalalithaa's death. "We join the people of Tamil Nadu and her supporters in mourning the passing of Jayalalithaa, an extraordinary leader."
The genesis of their rivalry goes back to March 25, 1989, when DMK leader Durai Murugan allegedly attempted to disrobe Jayalalithaa inside the assembly.
In 2001, Jayalalithaa, then the chief minister, paid back with equal measure when police swooped down on Karunanidhi's residence at midnight and dragged him out, his clothes coming undone in the scuffle, under the glare of television cameras.
But now, with the AIADMK without its towering leader and DMK too under a younger leader, most would believe the two parties will be able to keep their rivalry to politics.
And the hope would be reinforced by the ending of DMK's note on Jayalalithaa.
"Where will we now find an able and equal contestant? Without you, we are in a state of despair."
Close Story