Farewell to printmaker, sculptor, world renowned modernist artist Krishna Reddy
Hindustan Times, New Delhi |
Dhamini Ratnam
Aug 24, 2018 01:12 PM IST
One of the favorite anecdotes that master printmaker and sculptor Krishna Reddy liked recounting was when Nandalal Bose—or 'Mastermoshai' as he was called at Santiniketan in West Bengal—saw him drawing the flowers on a tree inside the leafy campus of the famous art school
One of the favorite anecdotes that master printmaker and sculptor Krishna Reddy liked recounting was when Nandalal Bose—or 'Mastermoshai' as he was called at Santiniketan in West Bengal—saw him drawing the flowers on a tree inside the leafy campus of the famous art school. "I know you're working hard," Bose, a key figure of early Indian modern art, told Reddy, then a student. "But you're still seeing the surface. Maybe the tree will take you in, slowly, if you persist." For Reddy, this conversation changed the way he experienced nature. Rather than being caught up in form, he began to look for depth, or what he called "a wholeness to everything in nature".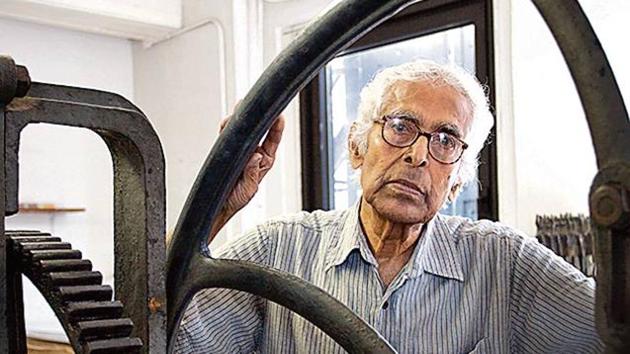 It was a search that marked his contribution to modernist art, as it took him from Santiniketan to Paris and later New York, where he lived with his wife artist Judy Blum Reddy, and daughter Aparna, till he breathed his last on Thursday. He had turned 93 on July 15.
Born in 1925 in Nandanoor, a village in Andhra Pradesh, Reddy's artistic skills were in demand as a young boy. In a 2004 interview, the artist recounted how at age 10, he hardly knew how to write or read, because he was encouraged to only paint. At 15, he went to Santiniketan, where his formal training in art began. As a young adult, Reddy took part in the Quit India movement.
Soon after Independence, Reddy travelled to London to study sculpture at the Slade School of Fine Art, here he met the famous English sculptor Henry Moore . He shifted base to Paris in the early 1950s. It was here that Reddy came into close contact with Modern European artists like Marino Marini, Constantin Brancusi and the Russian born Ossip Zadkine.
"They were not the usual teachers but were living, experimenting, and working artists. Starting in the early fifties I worked on a series of prints, which were built up as I used burins and scrapers and they became like sculptures. The way I worked the plate was to dig and gouge the metal. I used mostly hand tools but later on I also began to use machine tools. I like to call myself a printmaker but sculpture is my love. That is where I get all of my inspiration," Reddy said in a 2016 interview to Art Radar, an online journal.
Reddy's use of the sculptural gesture in printmaking, for which he is most well known, was further cemented by his association with Atelier 17, an experimental printmaking studio started by Stanley Hayter. Here, Reddy met several abstract artists including Alberto Giacometti, Alexander Calder, Pablo Picasso and even American abstract painters Jackson Pollock and Mark Rothko.
Together with Kaiko Moti, another artist from India, he experimented with colour intaglio printing using the viscosity process. Art historian and professor at Visva-Bharati, Santiniketan R. Siva Kumar explains that this process of making colour prints from a single plate with varied levels, using colours of different viscosity and applied with rollers of different degrees of softness, was a revolution in technique. "The multiple levels of depth on a single printing plate made the plate seem almost like a sculpture in itself. His plates looked like fine relief work. This shows a fine sensibility and refinement in the work."
Reddy began to hold workshops on this technique, in American and Indian universities. In 1976, he began teaching at New York University.
Some of his most famous works produced around this time included Demonstrators (a print which was a response to the students protests of Paris in 1968), Apu (a minimalist print of a crawling child which he named after his daughter) and the Clown series (which emerged after a visit to the circus with his daughter, which led him to contemplate the melancholia and despair behind hilarity of a clown).
According to Shukla Sawant, professor of Visual Studies at Jawaharlal Nehru University, and a printmaker artist herself, Reddy was a nodal figure in the network of modernist artists that emerged after the Second World War. "Artists from across the world flocked to printmaking studios in New York and Paris where he worked; his virtuoso use new technologies of image production and his generosity in sharing his methods attracted a worldwide following. With Bob Blackburn and William Stanley Hayter he helped to create a formidable 'independent studio' movement for printmakers."
"Krishna Reddy is one of the greatest printmakers and one of the finest abstractionists in printmaking that India has produced," says Bose Krishnamachari, artist, curator and co-founder of the Kochi-Muziris biennale. "While studying at the JJ School of Art, I would see his works exhibited at Gallery Chemould and Jehangir Art Gallery." Krishnamachari recalls meeting him in 1996 in his New York studio. "It was my first trip to New York. Experiencing the city with a visit to his printing studio was important to me. When I met him, he was very gentle in demeanour, soft-spoken and of course, one of the finest minds."
Reddy showed his works at Gallery Chemould, a 55-year-old establishment in Mumbai, several times through his career. His first solo exhibition there was in 1966.
"Our association with Krishna Reddy goes back to my father Kekoo," says Shireen Gandhy, who heads the gallery, now called Chemould Prescott Road. "He was an amazing graphic artist who developed a unique language in intaglio. For him, first and foremost was knowledge giving. So, when my dad organised a workshop at JJ School of Art, Krishna conducted it without hesitation because of this need to give back."
Back then, the market for prints wasn't as developed but Reddy had his following.
"The last time I met him was last year," Gandhy says. "His wife Judy is a fantastic artist as well and shared such a wonderful friendship with him. Krishna was a very serious person and Judy had an upbeat lightness to her, and a wonderful sense of humour. They complemented each other beautifully. Judy is much younger, and she took amazing care of him. I saw first-hand her devotion to him."
"Exciting news! Hindustan Times is now on WhatsApp Channels
Subscribe today by clicking the link and stay updated with the latest news!"
Click here!
Get
Latest India News
along with
Latest News
and
Top Headlines
from India and around the world