Five Maoists pronounced guilty of forest officer's murder 15 yrs ago
Divisional forest officer Sanjay Kumar Singh was shot dead by a Maoist squad in the Rehal forests under Nauhatta police station area of Rohtas district. of western Bihar, on February 15, 2002.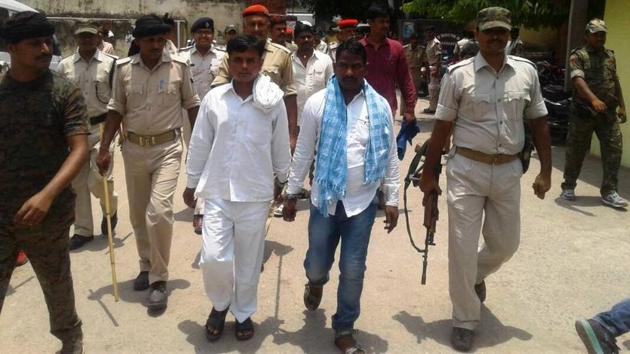 Updated on Jul 14, 2017 04:38 PM IST
Hindustan Times, Sasaram |
Prasun K Mishra
SASARAM More than 15 years after the shocking incident, a special court in Sasaram (western Bihar), constituted for trial of cases under the Prevention of Terrorism Act (POTA), on Wednesday, pronounced five Maoists guilty of the 2002 murder of divisional forest officer (DFO) Sanjay Kumar Singh.
Delivering the verdict, district and session judge Prabhunath Singh said the quantum of punishment in the case would be fixed on July 5.
The court pronounced former CPI-Maoist zonal commander Nirala Yadav and his assocates, Ram Bachan Yadav, Nitish Yadav and Lalan Singh Kharwar, guilty under sections 302/149, 148 and 353/149 of Indian Penal Code, section 27 of Arms Act and 3(2) (1) and 22 (5) of POTA.
As such, court sources said they will be eligible for life imprisonment or even capital punishment.
Another member of CPI-Maoist, Sudama Ydav was found guilty under section 20 of POTA, for being a member and supporter of a terrorist organization. This section attracts a maximum punishment of 10 years, according to sources.
DFO Singh was shot dead by a Maoist zonal squad in Rehal forests near a forest department guest house under Nauhatta police station area of Rohtas district. of western Bihar, on February 15, 2002. The place is situated in the dense forests on Kaimur hills, about 300 km south-west of state capital Patna.
As per the police charge-sheet, zonal commander Nirala was leading the Maoist squad and had a hot exchange of words with the DFO before the Maoists pumped nine bullets into his body, resulting in his on the spot death.
Thereafter, case no. 04/2002 against 25-30 unknown Maoists was registered at the Nauhatta PS, based on the statement of the then range officer, Kumar Narendra, who was accompanying Singh on the fateful day. The case was handed over to Central Bureau of Investigation (CBI) on directions of the Supreme Court on March 22, 2002.
The CBI later registered case no. RC 4(S)/2002 and submitted separate charge sheets in the special court under the above mentioned sections of IPC, Arms Act and POTA Act against 23 accused. The agency had mentioned 93 witnesses in the charge sheet.
The special court framed charges against the five accused on October 12, 2009 and nine out of total 93 witnesses were examined before the court during the trial lasting eight years.
The witnesses were MS Kalani, secretary, home, government of India, CBI SPs Vijay Kumar and Syed JN Gilani, CBI investigating officer, PL Meena, Dr Kanhai Mahato, the medical officer who conducted the post mortem examination, informant ranger Kumar Narendra, forester Prithvi Nath Singh, forest guard Ram Jiwan Pandit and and driver Mahboob Alam.
While special prosecutor, CBI, Deep Narayan Singh, conducted the prosecution.case, senior advocate Bal Mukund Prasad pleaded the case of zonal commander Nirala Yadav.
Out of the 23 persons accused in the case, Vinod Rajwar and Roopdev Yadav, were awarded life imprisonment by the special court in 2004 and their conviction was upheld by the Supreme Court.
Two others, Maoist area commander Abhay Yadav, and Sudarshan Bhuiyan, are facing separate trial in the same POTA court. Besides, two accused girls, who were minors at the time of murder, are facing trial before the Juvenile Justice Board, Sasaram.
"Of the remaining 12 accused, some were killed in different encounters with the security forces or are absconding", special prosecutor Deep Narayan Singh said.
STRAP
VERDICT The quantum of punishment in the DFO murder case would be fixed on July 5
BLURB
As per police charge-sheet, zonal commander Nirala, leading the Maoist squad, had hot exchange of words with DFO Singh before Maoists pumped nine bullets into his body
Close Story
Personalise your news feed. Follow trending topics