Flood-battered Kerala now reels under rat fever
Updated on Sep 01, 2018 11:16 PM IST
Flood-battered Kerala appears to be staring at an epidemic outbreak with as many as 28 people reported to have died of rat fever since August 1, including at least nine in one week, across the state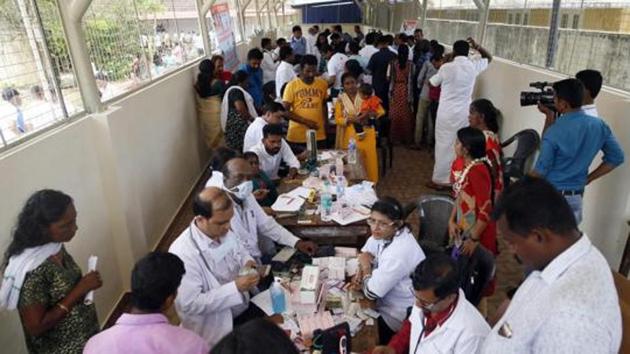 Flood-battered Kerala appears to be staring at an epidemic outbreak with as many as 28 people reported to have died of rat fever since August 1, including at least nine in one week, across the state.
A rat-fever or leptospirosis alert has been issued by the state health directorate in five districts after 300 suspected cases were reported in the last three days, a senior health official said.
The five districts are Kozhikode, Palakkad, Thrissur, Malappuram and Ernakulam, from where most of the suspected cases were reported.
Rat fever is a zootonic disease -- transmitted from animals to humans -- spread by contamination of water sources by rodent urine during flooding. Its main symptoms are high fever, headache, chills, abdominal pain and rashes. Elderly people suffering from kidney and liver ailments are the most susceptible.
At least 60 people from Kozhikode district, which has yet to recover fully from the nipah virus outbreak that killed 17 people in June, reported sick with symptoms of rat fever in the last few days. Twenty-eight of these were subsequently confirmed as leptospirosis cases, the health official quoted above said.
"Some cases come up during monsoon but this time there is a spurt in leptospirosis cases. Out of 60 people who complained of symptoms, 28 were confirmed later," said Kozhikode district medical officer, Dr V Jayasree.
The state health department has approached the Union ministry to supply more medicines to contain the disease. It advised those affected to desist from self-medication. People in flood-hit areas and those engaged in cleaning work have been asked to take two 100mg doxycycline tablets after the meal twice a week.
"We are keeping utmost vigil. All flood-hit people and relief workers have been advised to take enough precautions. The Union health ministry has promised us all help," said state health minister K K Shailaja.
In Kozhikode, state excise minister T P Ramakrishnan popped a doxycyline tablet on Saturday after a media conference, urging people to take enough precautions. Three relief workers were among the dead.
Shailaja said health workers had been directed to monitor people approaching them with suspected rat fever symptoms, collect their data and ensure they are adequately treated.
"It is a big challenge but we will overcome it," she said.