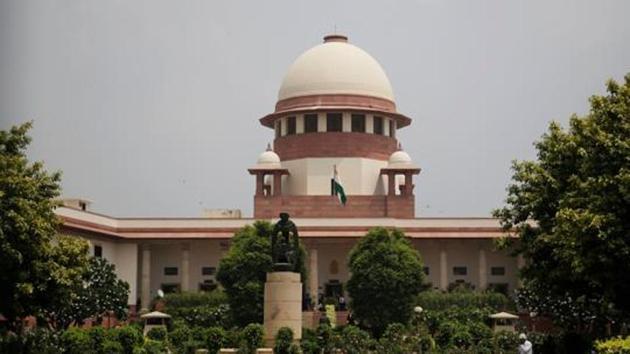 Former Uttar Pradesh CMs can't stay in govt accommodation: Supreme Court
The Supreme Court quashed a law passed by Uttar Pradesh government granting permanent residential accommodation to former chief ministers of the state.
UPDATED ON MAY 07, 2018 11:29 PM IST
The Supreme Court struck down on Monday a provision of an Uttar Pradesh law that let former chief ministers retain government bungalows, a ruling that is likely to have a sweeping impact in several other states where former elected representatives and public servants continue to enjoy government perks.
Justice Ranjan Gogoi said "a chief minister was at par with a common man once his or her term ends" and the allotment of a government bungalow "would not be guided by the constitutional principle of equality".
Monday's order will mean eviction for six former chief ministers of Uttar Pradesh - Samajwadi Party's Akhilesh Yadav and Mulayam Singh Yadav, Bahujan Samaj Party's Mayawati, Bharatiya Janata Party's Rajnath Singh, Congress's ND Tiwari and former BJP leader Kalyan Singh - all of who have bungalows in leafy Lucknow neighbourhoods.
Gogoi was part of a bench along with justice R Banumathi hearing a petition by a non-profit that challenged an amendment moved by the then Akhilesh Yadav government in 2016 to the UP Ministers (Salaries, Allowances and Miscellaneous Provisions) Act, 1981.
The amendment gave bungalows to former chief ministers for as long as they lived.
"The state government will study the order and a view will be taken once chief minister Yogi Adityanath is back from campaigning in Karnataka," said a UP government officer, asking not to be named.
Spokespersons of the Congress and the Samajwadi Party said they will react after they go through the ruling.
A BJP representative too said the party will wait to see the order but that it "had the highest regard for the judiciary".
Elected representatives are routinely entitled to security as a perk at both state and central levels, but a handful of states also give benefits such as vehicles, staff and bungalows.
Such states include Jharkhand and Madhya Pradesh. In Madhya Pradesh, former chief ministers also have a nine-member staff at their disposal. In Jharkhand, four former chief ministers are in government bungalows. Monday's Supreme Court ruling can potentially be used as a precedent to challenge such practices in other states.
"Natural resources, public lands and the public goods like government bungalows/ official residence are public property that belongs to the people of the country. The 'Doctrine of Equality' which emerges from the concepts of justice, fairness must guide the State in the distribution/allocation of the same," said the 29-page order by the bench.
During the hearing, the top court had kept it open for other states to join in on the issue. But only Odisha, Assam, Tamil Nadu and Bihar responded. Tamil Nadu and Odisha said they had no such provision; and Bihar and Assam said they had it by way of executive instructions.
Senior advocate Gopal Subramanium, who assisted the court as amicus curiae, asked the bench to expand the scope of the PIL and extend it to former Presidents and prime ministers. This suggestion was opposed by the Centre, which said an exception for former Presidents and PMs was made by the top court itself by a 1997 judgement delivered by a three-judge bench, which cannot be interfered by a bench of two judges.
Close