Friends over family: Why Amar Singh scores better than son Akhilesh for Mulayam
Pushed into political oblivion for six years, Rajya Sabha member Amar Singh's rehabilitation in the Samajwadi Party has not only reinstated him as Mulayam Singh's confidant, but torn the party apart.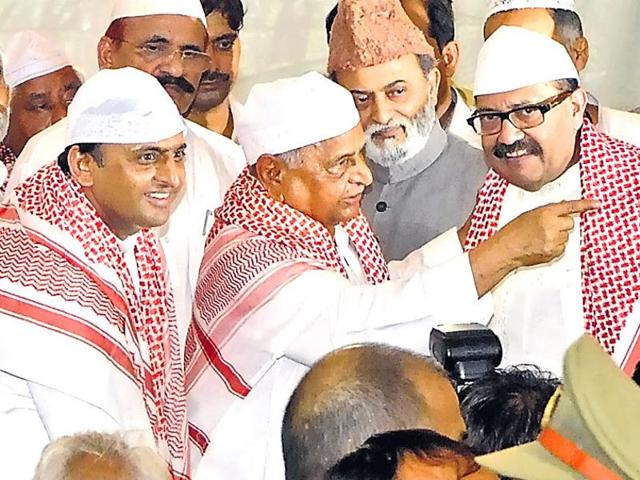 Updated on Oct 25, 2016 10:27 AM IST
Pushed into political oblivion for six years, Rajya Sabha member Amar Singh's rehabilitation in the Samajwadi Party has not only reinstated him as Mulayam Singh's confidant, but torn the party apart.
The events of the weekend have revealed the seemingly insurmountable differences between the Yadav family – party chief Mulayam, his son and state chief minister Akhilesh Yadav, and his brother Shivpal Yadav have been locked in an ugly battle that leaves little room for reconciliation. The crux of the issue – Akhilesh is steadfast in his criticism of Amar Singh, and Mulayam will have none of it.
Read | Mulayam, Akhilesh engage in shouting match; SP meet ends in acrimony
First battle
Shortly after the 2009 Lok Sabha election result, Amar's relationship with many party leaders soured and this eventually led to his ouster from SP for six years.
A month before Amar's expulsion, SP president Mulayam Singh Yadav had said: "I accept his resignation with a heavy heart".
Amar had resigned from all party posts, including that of the national general secretary, in January 2010.
Even as Amar broke ties with the SP, Mulayam's feelings for him seemed like Amar Prem (eternal love). It did not wane even when Amar spewed venom against top party leaders and attacked Mulayam a couple of times in the run up to 2012 UP assembly elections.
Amar floated a party, Rashtriya Lok Manch, which fared poorly in assembly polls.
By the time the results of the 2014 Lok Sabha elections were out, Mulayam started inviting Amar to his public and private events. The two were back together.
Sensing the inevitable, the anti-Amar lobby started making efforts to prevent his return. Mulayam had expelled Amar by bucklling under pressure from party leaders, mainly his cousin and SP national general secretary, Ramgopal Yadav.
Read | Akhilesh camp attacks 'outsider' Amar; Shivpal says 'take everyone along'
However, when it came to execute Amar's rehabilitation, Mulayam turned a deaf ear to all the hue and cry in the party. He not only ignored SP's Muslim poster boy Azam Khan and Ramgopal but also his son Akhilesh.
Mulayam revived Amar's party membership in May. A few days later, he was elected to Rajya Sabha as SP candidate.
After some time, Mulayam named Amar as a member of SP's national executive, amid growing clamour within the party to throw the 'outsider" out of the party.
But ignoring all the voices of dissent, SP supremo eventually on September 20, made Amar national general secretary in the national executive, the position he held before his ouster from the party.
Why is Amar so important to Mulayam?
In Mulayam's own words, Amar has been with the leader through his most trying times.
"There were only two persons stayed glued to me during my times of crisis – one is Janeshwar Mishra, who is no more, and the other is Amar."
Amar joined the party in 1996 when it was trying to create its national identity. The party was also, reportedly, starved of funds. Amar Singh, who was known for his skills as a negotiator and mediator in the corridors of power and business at the national level, came in handy to the party.
Mulayam headed a regional party and had emerged as a master politician in Uttar Pradesh. Ahead of his entry to SP, Amar began making Mulayam and his politics count at the national level.
Eventually, Amar's entry into the party fold coincided with Mulayam becoming the defence minister in the United Front government.
Amar was instrumental in mediating between the Congress and the SP and played a key role in the SP's support to the UPA governments.
Read | Yadav family feud: Amar Singh survives at Ramgopal's expense
Former prime minister Manmohan Singh recently highlighted the role of Amar Singh and Mulayam in the Indo-US civil nuclear deal and Amar was close to Mulayam when Trinamool Congress's Mamata Banerjee pulled the rug from under the UPA government. Mulayam had then saved the Manmohan government.
It was through Amar Singh that Mulayam began interacting with the Ambanis or Godrej. It was due to his effort that Mulayam as a chief minister hosted the former US President Bill Clinton in 2006.
In re-anointing Amar as the national general secretary, Mulayam made clear that his friend would have a role in the 2017 UP assembly poll campaign and would help in strengthening the party.
Amar is a native of Mulayam's Lok Sabha constituency, Azamgarh, and holds influence in the area. He is the only Thakur face of the party.
After Amar was expelled from the party in 2010, Mulayam tried to promote his senior associate Mohan Singh as a Thakur face, but to no avail. The party also tried to project Akhilesh's team member, Arvind Singh 'Gope', but found no public acceptance.
Amar was the one who brought Bollywood stars close to the SP. He made Jaya Prada contest and win the election from Rampur. SP had finalised Sanjay Dutt's ticket from Luckow in the 2009 Lok Sabha polls, but due to the Supreme Court order, he had to withdraw his candidature.
And it was Amar who turned around the rural festival, Saifai Mahotsav, into a glitzy affair.
(This story was first published on September 21, 2016, a day after Amar Singh was made the Samajwadi Party's national general secretary.)
Also read | Samajwadi leaders hold Amar Singh responsible for Yadav family feud
Close Story