Know Gauri Lankesh: A fearless critic of right-wing politics who was convicted in defamation case filed by BJP leader
Updated on Sep 06, 2017 02:54 PM IST
Senior Kannada weekly tabloid Editor and social activist Gauri Lankesh was shot dead on Tuesday night by unidentified men at her residence. She was 55.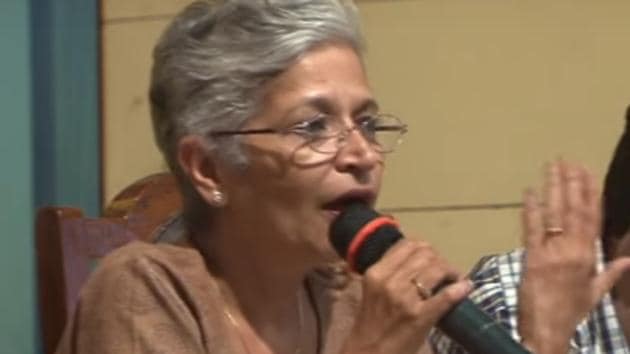 On a warm summer evening in March, about 200 people gathered outside the Bengaluru Town Hall to protest against the smearing of Kannada writer Yogesh master's face with black ink. At the centre of the crowd was journalist Gauri Lankesh, refusing as ever to mince words against those she believed were behind the attack.
Lankesh, who was shot dead at her residence on Tuesday, was a vocal opponent of right-wing excess and was present at the forefront of most such protests in the state. Almost exactly two years ago, Lankesh was again sitting on the steps leading to the Town Hall protesting the murder of rationalist thinker MM Kalburgi, who was shot dead at his residence .
The 55-year-old edited a tabloid newspaper and was an outspoken critic of right-wing Hindutva politics. She was also known for her pro-poor and pro-Dalit stand and was one of the few women editors in Kannada journalism.
Lankesh, born in 1962, was the daughter of journalist and founding editor of Kannada weekly tabloid 'Lankesh Patrike'.
Her aides remember her as a fearless and tireless activist who condemned all forms of violence. She was part of the chief minister's panel that brought some leaders of Karnataka's Naxal movement above ground.
Writer BT Lalitha Naik, a long time friend of Lankesh, said she was extremely fearless. "There was never a time when you could say that adversity had got the better of her. She used to casually mention the constant death threats she received, and her fearlessness reassured us," Naik said.
In 2016, she was convicted in a defamation case filed by Bharatiya Janata Party lawmaker Pralhad Joshi and party office bearer Umesh Doshi over a report published in 2008.
In an article published in Hindustan Times, Lankesh said she was once called by the Privileges Committee, and asked to carry a front-page apology in 2009 for a story she had written. "I argued that I hadn't written about what the MLA had said inside the House, but outside," she said, and settled on running an apology inside the weekly ("however insincere," she added), because there were "bigger battles" to be fought.
In March this year, an author who was to attend a book launch organised by Lankesh was attacked by a group of men who smeared black ink on his face. The author was warned of dire consequences for writing against Hindu gods by the men who, according to police, shouted "Jai Sri Ram" before fleeing.
Her siblings Indrajit Lankesh and Kavitha Lankesh are filmmakers in the Kannada film industry.
Watch FB Live: 'Journlist Gauri Lankesh murdered: Another instance of attack on media?'
In 2005, Lankesh and her brother Indrajit -- the paper's proprietor and publisher – were involved in a spat as they levelled allegations against each other to "protect the publication's ideology". Lankesh's brother said her pro-Naxal stand affected the paper, while she said he had a problem with her activism.
After the incident, Lankesh began publishing her own Kannada tabloid 'Gauri Lankesh Patrike'.
Lankesh had in the past worked for the rehabilitation of Naxals who wanted to return to the social mainstream and was one among those involved in the founding of Citizens Initiative for Peace (CiP) in the state.
K Neela, secretary of the state unit of the All India Democratic Women's Association, said Lankesh believed in peaceful, constitutional means to achieve change in society. "It was this belief in peaceful means that led her to join the panel to bring Maoist leaders above ground," she said of Lankesh. "She was very closely involved with us," Neela added.
Lankesh was also a supporter of former Jawaharlal Nehru Students' Union president Kanhaiya Kumar and Gujarat Dalit leader Jignesh Mewani. Kumar tweeted that "#GauriLankesh taught me to speak truth to power. She was fearless in her fight against hate. We resolve to carry on her struggle."
The latest issue of her weekly, Gauri lankesh Patrike, showed her concerns as a journalist. The cover was a report about the case of corruption lodged against former chief minister BS Yeddyurappa with the Anti-Corruption Bureau against the alleged illegal denotification of land earmarked for a housing colony.
In what is Lankesh's last editorial, she wrote about the alleged contradiction in the orders of the Supreme Court. She writes that although the apex court is rightly hailed for its judgment holding instant triple talak as unconstitutional, she criticised the court of undermining women's rights by ordering a CBI probe into the case of alleged Love Jihad in Kerala.
Close Story
Personalise your news feed. Follow trending topics