Darjeeling unrest: Schools start off-site classes for pupils facing board exams
Updated on Aug 10, 2017 05:04 PM IST
The shutdown has posed a stiff challenge to all sections and students of dozens of schools that dot the hills have been one of the worst affected.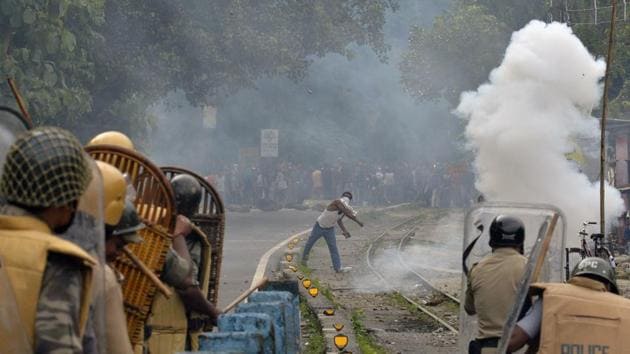 Schools in north Bengal hills have started making alternative arrangements for students facing board examinations in 2018 as the indefinite shutdown called by the Gorkha Janmukti Morcha (GJM) is creeping towards the two-month mark with no end in sight.
The shutdown that rolled on to its 57th day on Thursday has posed a stiff challenge to all sections and students of dozens of schools that dot the hills have been one of the worst affected. Among them, those facing the board exams have been hit the hardest.
Schools in Darjeeling and Kurseong were supposed to reopen on July 8 and those in Kalimpong on June 27. But with the Gorkhaland agitators vowing not to relax the indefinite bandh till their condition for statehood talks are met, there is no certainty when normalcy would return to the campuses.
Some schools have started off-site classes in Siliguri about 80 km away and others are trying to make the best use of the 'relaxation' given by the GJM for teaching students due to appear for board exams.
Among the schools that have started these classes are St Paul's School that was set up in 1864, St Joseph's School, St Anthony's School, and Himali Boarding School.
"From Monday, we have started coaching classes for our Class 10 and 12 students in Siliguri. We have to clear the syllabus backlog and help the students for the board exams," said Robindra Subba, director of Himali Boarding School.
About 200 Himali students are attending classes at Silpanchal Bhawan in Siliguri.
St Joseph's School (North Point), which was set up in 1888, is holding classes at a Christian missionary centre in Bagdogra on the outskirts of Siliguri from August 1. Father Shajuman, the rector of St Joseph's School, said: "At the Bagdogra centre, 80 boarders and 20 day scholars are attending the classes."
This time, 226 St Joseph's boys would appear in the Indian Certificate of Secondary Education (ICSE) and Indian School Certificate (ISC) examinations.
Some of the schools have also rented community halls in the hills to teach the students. For day scholars, arrangements for coaching classes have been made in Darjeeling.
Prakash Pradhan, director of Kalimpong's Rockvale Academy, said, "Soon we will start coaching classes for a set of students in Siliguri. We have made a separate arrangement for another set of students in Kalimpong only."
"Though I have started coaching classes in Siliguri, I will take back the students to Kurseong as political parties in Darjeeling hills have allowed us to start coaching classes in Kurseong. But, we cannot hold it in the school premises," said Chetan Tewari, principal of Kurseong's St Anthony's School and the Kurseong coordinator for Association of Hill Listed ICSE Schools (AHLIS).
About 170 students are appearing ISCE and ISE from his school.
The hills of north Bengal have been traditionally known for their schools where students flock not only from different states but also from neighbouring countries such as Nepal, Bhutan, Bangladesh, Thailand, and even Hong Kong.
Faced with the prospect of months of the shutdown, the authorities of different schools wrote to leaders, who are spearheading the Gorkhaland agitation, specifically requesting for relaxation for the board examinees.
"We have allowed the schools to hold their coaching classes for Class 10 and 12 students in community halls without school uniforms," said Binay Tamang, assistant secretary of the Gorkha Janmukti Morcha, the principal party in the hills.
But the principal of a reputable school said that the situation in the hills is not conducive to studies, and therefore, they would prefer to hold classes in Siliguri.
Clubbed with the indefinite bandh, the ban on internet services in the hills since June 19 has posed a serious problem for the Class 9 and 11 students, who have to register their names with their respective boards by August 31.
"The online registration process of the students in ICSE schools will have to be completed by August after linking them with Aadhaar numbers," said Pradhan, director of Kalimpong's Rockvale Academy.
Most students do not have Aadhaar numbers, said Pradhan, and cannot apply for them without access to the web.