Goa CM Manohar Parrikar to be flown back to the US for check-up
The decision for Goa CM Parrikar to travel to the US was taken on Tuesday night and the state cabinet was informed on Wednesday morning.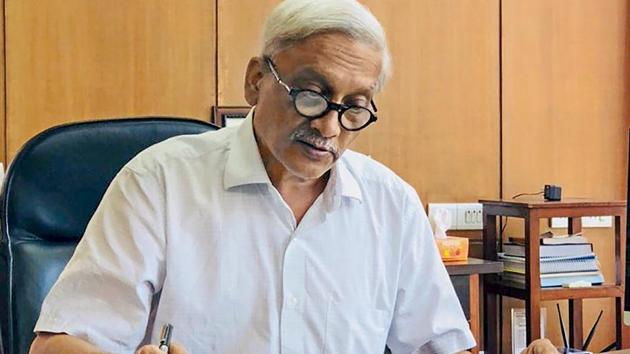 Updated on Aug 29, 2018 03:32 PM IST
Barely a week after he returned from the US, Goa chief minister Manohar Parrikar will return there for treatment.
"His family wishes that he should be checked by the doctors who treated him initially, which is why he is travelling to the US. I've spoken to him and he has said that he is feeling fine. I do not expect that he will be away for too long, but we will see," the chief minister's press secretary said.
The decision to travel to the US was taken on Tuesday night and the state cabinet was informed on Wednesday morning.
Parrikar, who had returned to Goa from the US on August 22, was unexpectedly hospitalised at Mumbai's Lilavati Hospital a day later after he went there for what the Chief Minister Office described as routine tests.
Initially he was expected to return to the state on August 25 which got delayed. Parrikar had left for the US for his second follow-up visit on August 10.
The chief minister underwent three-month-long treatment for a pancreatic ailment at a hospital in the United States.
Parrikar was first hospitalised on February 14 for what was reported to be a case of food poisoning. However, no sooner he was shifted to Mumbai, the state administration informed that the chief minister would be "unavailable for next two days as he has to undergo a routine health check-up in Mumbai."
On February 16, the state government informed that the chief minister "is well and under observation. He is likely to be discharged in a day or two. It is a case of mild pancreatitis."
The next day, however, it was reported that the chief minister was "under monitoring for his inflamed pancreas" with the assumption that his treatment would be longer than initially anticipated and the Goa assembly's budget session initially planned for three weeks was curtailed to only four days.
Parrikar travelled to the US at the Memorial Sloan Kettering Cancer Centre in New York State for treatment on March 5 where he remained for a period of three months and returned on June 14 in time of the assembly's monsoon session.
Close Story
Personalise your news feed. Follow trending topics