Latest from manohar parrikar
Panaji, Mandrem, Sanguem and Cumbharjua are the four Goa seats in which the ruling BJP is facing a rebellion.

Elder son of former Goa chief minister Manohar Parrikar, Utpal Parrikar compared denial of ticket from Panaji to 2019 by-polls that was facilitated after his father passed away. He added that the saffron party had brushed him off even then but he "respected" the decision.

Written by Sharangee Dutta | Edited by Poulomi Ghosh
, New Delhi
Asked whether he would support the BJP in a possible post poll scenario, former defence minister Manohar Parrikar's son Utpal said he will place such decisions before the people of Goa "at the right time."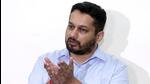 After being denied of the Panaji constituency which was represented by former Goa chief minister Manohar Parrikar, Utpal on Friday announced he will be contesting the Goa Assembly Election 2020 as an independent candidate.

The BJP's decision to nominate Atanasio 'Babush' Monserrate from the Panaji seat , which Manohar Parrikar earlier held, set off speculation that Utpal was upset and could quit.