India eases drone norms in boost for future tech
Updated on Jul 16, 2021 03:34 AM IST
This comes days after Prime Minister Narendra Modi chaired a meeting of top ministers to discuss the formulation of a policy for the traffic management of unmanned aircraft systems (UAS) or drones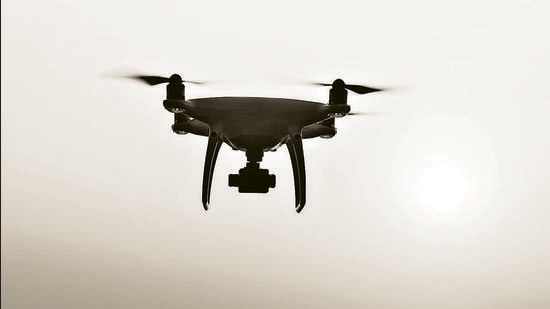 , Hindustan Times, New Delhi
Anisha Dutta
The Union civil aviation ministry on Thursday released the draft of the national drone policy, making it significantly easier for people and companies to own and operate drones, while also streamlining a labyrinthine certification process for manufacturers, importers and users, in a move that aims to boost future tech.
Civil aviation minister Jyotiraditya Scindia underlined the key highlights of the new policy in a series of tweets on Thursday. The document has been now been put up for public inputs till August 5, following which it will be notified. The rules will replace the Unmanned Aircraft System Rules (UAS), 2021, which came into force in March.
"In a major fillip to the drone industry, I am happy to present the Draft Drone Rules 2021 that mark a stark shift from the earlier UAS Rules. 10 key takeaways: Several approvals abolished & processes made easier; number of forms reduced from 25 to 5; coverage of drones increased from 300 kg to 500 kg; fee reduced to nominal levels; yellow zone reduced from 45 km to 12 km from the airport perimeter; no flight permission required up to 400 ft in green zones...," Scindia wrote.
Drones have been in the spotlight since such a device was used to target an Indian Air Force (IAF) base in Jammu with explosives last month. Officials in defence have since said they are working on anti-drone technologies. Typical consumer drones usually have some inbuilt safeguards, which mean not all are unsafe.
Drones now form a significant new consumer tech category, particularly among hobbyists and visual artists, and are being tested for a range of practical as well as industrial uses such as automated package deliveries by e-commerce companies.
Last month, Prime Minister Narendra Modi chaired a meeting of top ministers to discuss the policy regarding drones, which has been long awaited. The existing regulation, notified in March 2021, was seen to have a labyrinthine approval process.
According to the draft rules, seen by HT, many of the approvals previously required, such as unique authorisation number, unique prototype identification number, certificate of conformance, certificate of maintenance, import clearance, operator permit, authorisation of R&D organisation, and student remote pilot licence, have been abolished.
The draft rules also propose to reduce fee to nominal levels and not linking the fee with the size of the drone.
Building on its attempt to make rules easier, the rules state no pilot licence will be required for micro drones (for non-commercial use), nano drones and for research and development (R&D) organisations. There will no longer be a ban on the use of drones by foreign-owned companies registered in India and no security clearance will be required before any registration or licence is issued.
The government plans to open what is known as the Digital Sky platform, which manufacturers will be able to use for certification process, and from where interactive airspace maps with green, yellow, and red zones can be accessed.
Digital Sky will also serve as a unified platform for users to obtain the mandatory registration number and remote pilot license, and people will need to check the service to determine if any restrictions are in place before they fly a drone at a location. The platform will be under India's aviation regulator, the Directorate General of Civil Aviation (DGCA).
"The central government may, within 30 days of the date of notification of these rules, publish on the digital sky platform, an airspace map for drone operations segregating the entire airspace of India into red, yellow and green zones, with a horizontal resolution equal or finer than 10 metre," the draft rules state.
The zones pertain to what is known as geo-fencing, which prohibit or limit the use of drones at some places, like close to an airport or over sensitive military and VIP locations.
The yellow zone has been reduced from 45 km to 12 km from an airport's perimeter, and the new rules suggest no flight permission will be required for operations up to 400 feet in green zones and up to 200 feet in the area between 8-12 km from an airport perimeter.
"Green zone" refer to the airspace from the ground up to a vertical distance of 400 feet (120 metre) above ground level (AGL) that has not been designated as a red zone or yellow zone in the airspace map for drone operations; and the airspace from the ground up to a vertical distance of 200 feet (60 metre) AGL in the area located between a lateral distance of 8 kilometre and 12 kilometre from the perimeter of an operational airport, the draft rules say.
In red zones, drone operations shall be permitted only under exceptional circumstances by the central government, the rules add. To fly in the yellow zone, a drone pilot will require permission from the air traffic control authority.
"The airspace map for drone operations shall be designed to be programmatically accessible through a machine readable Application Programming Interface (API) and interactive so that drone pilots will be able to plot their proposed flight plan and easily identify the zone(s) within which it falls so as to assess whether or not they need to make an application for prior approval," it said.
This will allow for automatic drones to be automatically updated with geo-fencing details of where they can and cannot be flown. Some companies build such failsafe fences into their products, typically earmarking no-fly zones around airports and other sensitive locations.
Discussions on a draft policy on drones have been on for over two years. The policy document uploaded on Thursday says integration of unmanned aircraft systems (UAS) into the National Airspace System (NAS) presents several challenges, technically and operationally. Integrating UAS within the current air traffic management systems need additional hardware on board, it added.
The objective of the policy is to enable more types of unmanned aircraft operational scenarios, increase the ease of compliance for the unmanned aviation industry, and ensure safety and security.
Industry representatives welcomed the rules.
"The ministry of civil aviation's decision to liberalise the drone policy even after the recent drone incidents in Jammu showcases the government's bold approach to promote the use of the drone and focus on the development of counter-drone technology to address the threat posed by rogue drones. We appreciate the ministry's initiative and will continue to extend our support towards making India global drone hub." said Smit Shah, director, Drone Federation of India.
Personalise your news feed. Follow trending topics