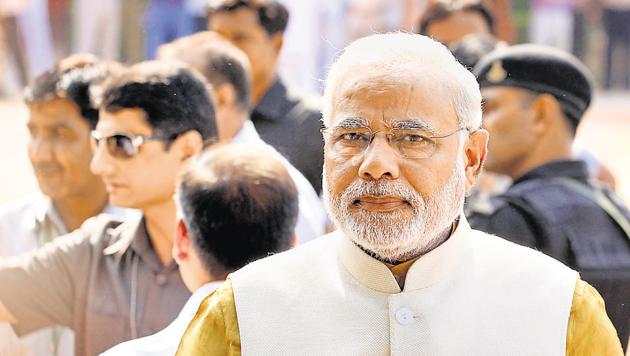 BJP, govt to step up efforts to reach out to Dalits
On April 14, the birth anniversary of BR Ambedkar, the government will hold camps in 21,000 villages where Dalits make up a substantial part of the population to distribute income and caste certificates.
Hindustan Times, New Delhi | By Smriti Kak Ramachandran and Kumar Uttam
UPDATED ON APR 11, 2018 08:19 AM IST
The National Democratic Alliance and the Bharatiya Janata Party are embarking on separate but related large-scale efforts to reach out to Dalits, an electorally important grouping.
On Wednesday, Prime Minister Narendra Modi will speak to all 324 Members of Parliament and more than 1,350 Members of Legislative Assembly (MPs and MLAs) of the Bharatiya Janata Party (BJP) through teleconference, as the party launches its three-week-long outreach effort aimed at Dalits.
On April 11, the birth anniversary of Dalit icon and social reformer Jyotiba Phule, the party will launch a Gram Swaraj Abhiyan and will conduct door-to-door activities till May 5 to reach out to poor and marginalised sections of the society in over 20,000 villages, according to a BJP leader who asked not to be named.
On April 14, the birth anniversary of another Dalit icon BR Ambedkar, the government will hold camps in more than 21,000 villages where Dalits make up a substantial part of the population to distribute income and caste certificates to members of socially disadvantaged communities, an official from the ministry of social justice and empowerment said on condition of anonymity.
Dalits have been at odds with the government over issues ranging from the 2016 suicide of Dalit student Rohit Vemula in Hyderabad, the flogging of Dalit workers by self-styled cow vigilantes in Una, Gujarat, in 2016, and the perception that the government didn't represent their interests well enough in the Supreme Court, resulting in a dilution in a law addressing crimes against Dalits.
Even some of the BJP's own Dalit MPs and NDA allies have raised this issue within the party as well as with the prime minister.
Union minister and veteran Dalit leader Ram Vilas Paswan said in interview to HT that the Narendra Modi government suffers from a "perception" problem that it is insensitive to Dalits.
"PM Modi will give a pep talk to lawmakers on policy and good governance initiatives of his government, speak about future programmes and will reiterate his commitment to poor and backward communities," a BJP office-bearer said on condition of anonymity.
Modi will observe a day-long fast on April 12, as a mark of protest against what the BJP terms the "Congress's obstructionist politics" during the second half of the budget session of Parliament. The Congress has said that it was keen on having the House function and discuss important issues, including several no-confidence motions against the government, and claims that the BJP encouraged smaller parties to disrupt the House. On April 9, Congress chief Rahul Gandhi observed a symbolic fast against caste and communal violence.
There's more to the BJP and the government's Dalit outreach. Each BJP unit has been asked to celebrate Ambedkar's birth anniversary. And between April 14 and May 5, BJP leaders will spend at least one night in villages where at least 50% of the population is made up of people from the scheduled castes (SCs) and scheduled tribes (STs). Union ministers have been asked to spend two nights.
The criteria for the selection of villages where the caste and income certificates are to distributed is the same. The certificates that will be handed out are mandatory for members of scheduled castes and scheduled tribes to avail benefits offered under central- and state-sponsored schemes, including admissions to educational institutions, scholarships and quotas in jobs.
"As part of the Gram Swaraj Abhiyan, piloted by the ministry of rural development ,from April 14 to May 5, officials will travel to villages to ensure that income and caste certificates are provided to those who need them and to open bank accounts linked to Aadhaar so that benefits of schemes are transferred to them," the official from the social justice and empowerment ministry said.
Dalit activist Chandrabhan Prasad said the government's outreach is unlikely to "impress" the communities.
"The Dalit community is now led by youth who have access to smart phones, English alphabet and jeans, they will be less than impressed," he said.
The process of distributing income and caste certificates has been largely streamlined in the southern state where gram panchayats have been able to digitise the records and efforts are underway to replicate the effort across the country.
These villages that have been identified by the rural development (ministry) in collaboration with the Registrar General of India have been picked for universalisation of seven schemes, including the Pradhan Mantri Ujjwala Yojana, under which free gas connections are given to the rural poor; Pradhan Mantri Jan Dhan Yojana to promote financial inclusion; the Mission Indradhanush health initiative; the Ujala Scheme to promote efficient lighting and the Pradhan Mantri Jeevan Jyoti Bima Yojana, a government-backed life insurance scheme.
D Shayam Babu, a senior fellow at the centre for policy research, said the government did not do much in the past four years for the communities and even if they take steps out of genuine concerns, they will seem "election motivated".
Close