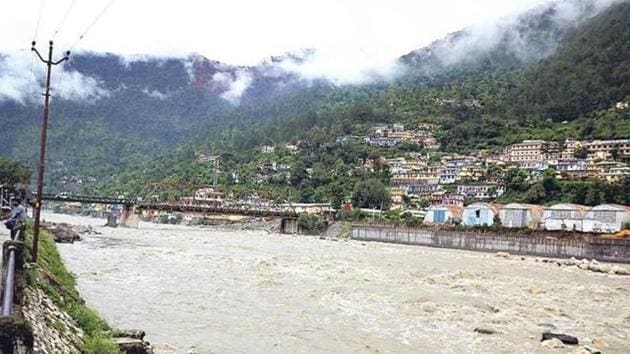 Green ministry U-turn on pro-Ganga stand over development 'unfriendly' eco-rules
Environment and water resources ministries had submitted a joint affidavit to the NGT, saying only a 100 km stretch was left "pristine". Now the green ministry withdrew its consent.
PUBLISHED ON DEC 26, 2016 10:31 PM IST
In a U-turn, the environment ministry raised red flag over a joint affidavit with the water resources ministry for declaring 100 kilometers of Ganga in Uttarakhand as pristine on Monday, a week after the consensus document was submitted to the National Green Tribunal (NGT).
The joint affidavit was submitted after the tribunal pulled up the two ministries for the slow pace of implementation of eco-sensitive zone spread over 4,700 sqkm in the upper reaches of Ganga.
The eco-rule notified in 2012 prohibited construction of dams bigger than 2 MW and other infrastructure projects that could adversely impact the fragile ecosystem.
The rule asked the Uttarakhand government to prepare zonal management plan within two years to ensure free flowing Ganga, but the state has been seeking modifications of stringent norms in the eco-zone notification.
In August this year, the environment ministry agreed to diluting the notification to allow hydro projects up to 25 MW and wider roads, evoking a strong response from Water Resources secretary Shashi Shekhar.
As the contradiction between the ministries was brought to the notice of the NGT, the tribunal sought a response from the Centre.
Read: NGT directs authorities to act against units polluting Ganga
On December 21, the environment and water resources ministries submitted a joint affidavit trashing the Uttarakhand government's zonal plan, saying it was "incomplete" and "non-compliant" with provisions of eco-rule described as "pro-development".
Stating that 2,500 km of Ganga had been exploited, the affidavit said only this 100 km was left "pristine", and suggested setting up of an expert committee to prepare a "comprehensive" zonal plan as per "spirit" of the eco-zone notification.
However, at a meeting called on direction of the NGT, the environment ministry withdrew its consent to the affidavit. "We don't agree with it," two of the three ministry officials present at a meeting said.
They did not give reasons but cited the August meeting in which the green ministry had suggested changes in the eco rule, sources said.
A senior water resources ministry confirmed the development, saying he will raise the issue with senior environment ministry officials. The environment ministry was represented by mid-level officials at the meeting chaired by Shekhar.
Water resources minister Uma Bharti had been at loggerheads with her environment counterparts since the NDA government came to power in 2014 on ensuring unhindered flow of Ganga in Uttarakhand. This is the latest round of fight between the two ministries.
Close