Gujarat election result: Hardik Patel made Gujarat a close contest
Hardik Patel's intervention in the Gujarat elections in favour of the Congress has unsettled the BJP's political dominance, results being unveiled today show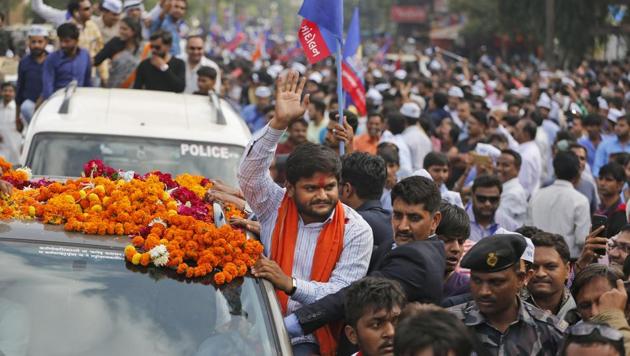 Updated on Dec 18, 2017 06:21 PM IST
A single week in August 2015 changed Gujarat's politics. A single man, irrespective of the final numbers on counting day, changed the election. It is ironical that Hardik Patel, who has given Gujarat its closest electoral fight in decades, who has unsettled the BJP's political dominance, is too young to have fought a seat on his own. (Live updates)
After 13 years of dominating the Gujarati political landscape, Narendra Modi left Gandhinagar for Delhi in May 2014. Within 3 months, a Patidar agitation rocked the state. A 22-year-old Hardik mobilised hundreds of thousands of people for a rally. The state government panicked, responded with repression, and not only antagonised its core social base of Patidars but also gifted the state a new leader.
Since then, the BJP has deployed every method possible to weaken Hardik – he's been arrested, charged with sedition, his group has been split, and he has been kept under close surveillance. Yet, the man just did not fade away.
Over the past year, first quietly and then publicly as the media picked up his appeal, Hardik travelled across Gujarat in his SUV. He did roadshows, rallies, spent time in cities and villages. He had only one message – we have to teach the BJP a lesson. Back in April, he told us, "I will not join Congress. Congress symbol is suicide. I will transfer all my votes to Congress." Six months later, that is what he did in an alliance with Rahul Gandhi.
If the Gujarat election has turned out to be so close, it is because Hardik stole the BJP's social base. Patidars are a dominant community -- and when Patels, sitting in tea shops across rural and semi-urban pockets, critique the BJP, it has a domino effect in creating public mood.
It is these young Patidars who made up for the lack of organisational backbone of the Congress. It is these young Patidars who rebelled from the old voting habits of their parents and decided to shed their old aversion to the Congress. Indeed, the original demand for reservations was not even a major issue anymore for many in the community. It was just an impulse for disruption.
It was Hardik who created, stoked, and channeled these impulses. If BJP's victory margin fell in Gujarat, the entire opposition political space has one man to thank. And that one man cannot, yet, be rewarded with a formal political position.
Close Story