Gujarat polls: Kejriwal promises to implement old pension scheme by Jan 31 if voted to power
Updated on Dec 01, 2022 07:33 PM IST
The announcement comes at a time when government employees on election duty cast their votes through postal ballots.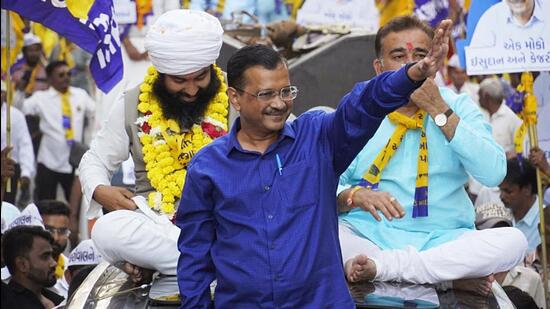 Ahmedabad: Aam Aadmi Party (AAP) national convener and Delhi chief minister Arvind Kejriwal on Sunday "guaranteed" that the Old Pension Scheme (OPS) will be implemented in the state within a month of the AAP forming a government.
The promise comes at a time when government employees on election duty cast their votes through postal ballots.
"Two months ago, the scenario in Gandhinagar was such that thousands of government employees came out on the streets and surrounded the entire secretariat. Such a sight was never seen in Gujarat earlier. Their only demand was implementation of the OPS. Today, I want to tell all the employees of Gujarat that once our government is formed, a notification will be issued to implement the OPS by January 31," Kejriwal said at a media briefing in Surat. The Punjab government on November 27 had issued a notification to implement OPS, he added.
Also Read | 'BJP video-making company,' says Kejriwal on latest jail footage of Jain
Kejriwal has announced a number of "guarantees" or poll promises if his party is voted to power in Gujarat. They include 300 units of free power for all households, 1 million jobs, ₹3,000 monthly stipend for unemployed youth, free and quality health care and education and an honorarium of ₹1,000 for all women.
Kejriwal, who has been frequently visiting poll-bound Gujarat since March this year, held a roadshow in Jamnagar and attended a meeting with textile traders in Surat on Sunday.
"There are many other workers, who have temporary jobs. They include contract workers, police personnel with temporary jobs, state transport department employees like drivers and conductors, village guards, ASHA workers, teachers, health workers...they all have many issues. Many of them are demanding for grade pay system...many are temporary workers and want permanent jobs. There are many employees whose salary is very less, so there is a need to raise their salary...I want to solve the problems of all of them," he said in Surat.
Also Read | On Adityanath's 'namoona' remark, Kejriwal: 'People should vote for BJP if…'
In the meeting with textile traders at private hotel in Surat, he assured of resolving all the issues faced by the industry if AAP is voted to power in Gujarat.
"There is fear among traders and businessmen. They fear to freely express their support to the AAP. Once we form the government, we will eradicate this fear from the society. We will give you honour and stop hooliganism. Traders who work hard and earn money are been treated as thieves and tax defaulters. We will give respect and honour you," he said.
Gujarat BJP spokesperson Yamal Vyas refused to comment on Kejriwal's comments.