Gujarat polls: Shah steps up attack on Congress over internal security, vote bank politics
Updated on Nov 27, 2022 05:04 AM IST
Gujarat elections: Union home minister Amit Shah on Saturday stepped up his attack on the Congress, alleging that terror strikes were rampant under the party's rule at the Centre and it never condemned them due to "vote bank politics".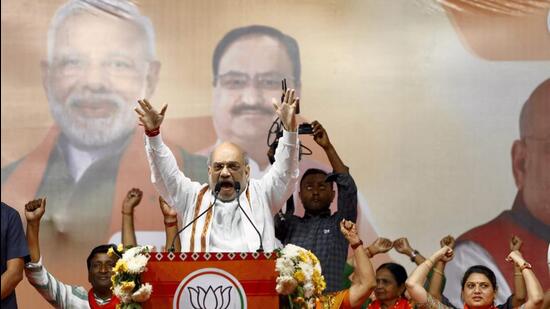 Union home minister Amit Shah on Saturday stepped up his attack on the Congress, alleging that terror strikes were rampant under the party's rule at the Centre and it never condemned them due to "vote bank politics".
Shah also said it is impossible to carry out such an attack under the watch of the Narendra Modi-led government.
Also Read: BJP manifesto promises UCC, 'anti-radicalisation cell' in Gujarat
The Union minister was campaigning for the Bharatiya Janata Party's candidate in Talaja in Bhavnagar district when he recalled the 26/11 Mumbai attacks, one of the deadliest terror strikes in India.
"Today is the anniversary of the 26/11 attacks. On this day (in 2008), Pakistani terrorists killed 164 people in Mumbai. I pay my humble tributes to the departed souls," he told the rally.
"Though such attacks were rampant during the Congress rule, it is not possible to carry out a 26/11-type terror attack today because Narendra Modi is the Prime Minister," he added.
Shah on Saturday addressed election rallies and roadshows at Rajula (Amreli), Talaja (Bhavnagar), Mahuva (Bhavnagar), Sayajiganj (Vadodara) and Vejalpur (Ahmedabad).
Gujarat votes on December 1 and 5, and the results will be declared on December 8. Talaja will go to the polls in the first phase. The Bharatiya Janata Party (BJP) is seeking a seventh straight term in the state.
"(Congress leader) Sonia (Gandhi) and (former prime minister) Manmohan Singh were in power for 10 years, from 2004 till 2014. During their regime, terrorists from Pakistan used to enter India frequently and kill our soldiers and even decapitated their heads. Despite that, the Congress never uttered a word. Why? Because of their vote bank. I hope you know who is the Congress's vote bank," Shah said.
PM Modi gave a strong message to the world by carrying out surgical and air strikes on terrorists after Uri and Pulwama terror attacks in 2016 and 2019, respectively, he said.
At another rally in Rajula, Shah attacked both the Congress and Aam Aadmi Party (AAP), a new entrant in the assembly poll fray in the state, for supporting activist Medha Patkar, who spearheaded the Narmada Bachao Andolan against a dam project.
"Congress leader Rahul Gandhi took out a padyatra and they took along Medha Patakar," Shah said, referring to Patkar's participation in the Congress's Bharat Jodo Yatra in Maharashtra on October 19.
"Can there be a bigger anti-Gujarat or anti-Saurashtra person than Patkar?... The Congress only took out a padyatra (with her) but those jhaduwalas (referring to AAP) gave her a ticket in 2014 for Lok Sabha elections. She lost her deposit," Shah said.
He accused the Congress of stalling the Narmada project for several years.
"If the Narmada project was completed, the farmers of Saurashtra, Kutch and Gujarat would stand on their feet and prosper. This is something the Congress would not digest, hence, they did not allow it to be completed," he said.
He highlighted the achievements of the Modi government in Saurashtra.
He said the region was prone to drought at one time and no permanent solution was sought.
"Dairies were forced to shut down. The Amreli dairy was also shut down. When Narendra bhai became the chief minister, 150,000 check dams were built… The water levels came up as a result," he said.
Both the Congress and AAP hit back.
"What Shah is saying has no importance in this election. He should address issues like how Gujarat reached a debt of ₹4 lakh crore from ₹10,000 crore in its 27 years of rule? What about 400,000 Covid deaths in Gujarat or investigation in the Morbi bridge tragedy?" Congress spokesperson Alok Sharma said.
He also said several people who stood by Patkar during her protest are now with the BJP.
"What does the party and Shah have to say about them? These are not issues. Even Shah and Prime Minister Narendra Modi can join the Bharat Jodo Yatra. The yatra is not an election campaign, it is to bring India together," he said.
Gujarat AAP spokesperson Punit Juneja said: "The BJP doesn't have any answer to its 27 years of misrule and the issues that the AAP has been raising this election. Therefore, they have been raising all non-issues and this is just another such attempt. But it will have no effect on the people of Gujarat," he said.