Gujarat HC extends relief from arrest to Teesta Setalvad, Javed Anand till June 13
Setalvad and Anand had moved the Gujarat high court after a lower court rejected their anticipatory bail plea in the
₹
1.4 crore fund embezzlement case related to their NGO Sabrang Trust.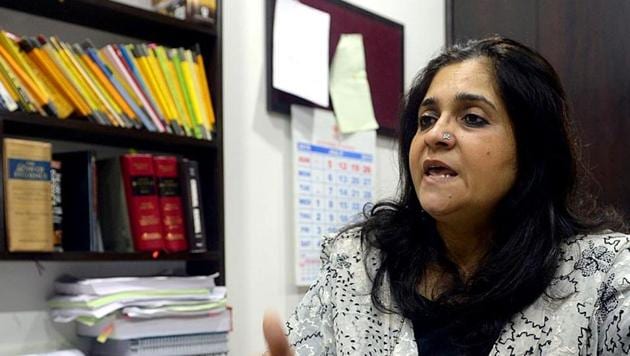 Updated on May 28, 2018 03:23 PM IST
Press Trust of India, Ahmedabad |
Press Trust of India
The Gujarat high court on Monday extended the protection from arrest to activist Teesta Setalvad and her husband Javed Anand till June 13, in a ₹1.4 crore fund embezzlement case.
Earlier on Monday, Justice A Y Kogje, in whose court the matter was listed, recused himself from hearing it saying "not before me."
The matter was then taken up by the court of Justice Biren Vaishnav, who extended the activists' interim protection from arrest till June 13.
The court has listed the case for next hearing on June 12.
The Supreme Court had last month granted temporary relief to Setalvad and Anand, extending their interim protection from arrest and transit anticipatory bail from May 2 to May 31, granted to them by the Bombay high court.
The apex court had said the duo will not be arrested till May 31, but before that they would have to approach the competent court in Gujarat which will decide the matter on merits.
Setalvad and Anand had moved the Gujarat high court after a lower court rejected their anticipatory bail plea in the ₹1.4 crore fund embezzlement case related to their NGO Sabrang Trust.
The duo had moved the plea for anticipatory bail after an FIR lodged against them on March 30 this year by complainant Raeeskhan Pathan.
Opposing the bail plea in the lower court, the Crime Branch had claimed that the couple misused the money granted to their NGO by the Union ministry of Human Resource Development between 2010 and 2013 for their "personal and political cause".
In its submission, the Crime Branch said the accused misused the funds "to pay witnesses in serious cases in Gujarat (2002 riot cases) to make false deposition."
During this period, Setalvad worked as the field co-coordinator for her NGO - Citizen for Justice and Peace, while her husband Javed Anand worked as the trustee of the Sabrang Trust.
The ministry had granted ₹1.4 crore between 2010 and 2013 to the NGO for a scheme under the Sarva Shiksha Abhiyan.
Under the 'Khoj project', the Sabrang Trust had published literature and pamphlets that spread communal enmity which is "dangerous for the country's unity", the police said.
In their defence, Setalvad and Anand had told the court that the books published by them were written by some enowned writers, like Govind Pansare and Savitriben Phule, and were approved by the HRD Ministry.
They also provided details of bank accounts related to the fund, saying all payments were made through cheques and were transparent.
They claimed the police wanted their custody on "false complaint" and that the complainant, Pathan, had a "personal grudge" against them.
(This story has been published from a wire agency feed without modifications to the text. Only the headline has been changed.)
Topics
Close Story