Have an opinion on cow slaughter? Log onto Yogi Adityanath's website
Updated on Apr 30, 2017 08:25 AM IST
The opinion poll by the UP chief minister is titled 'Do we need to formulate a strict law to stop cow slaughter?'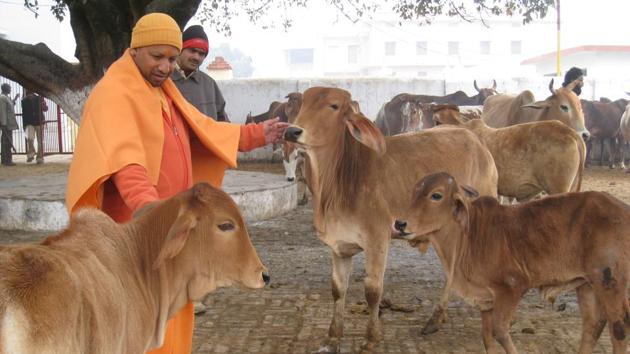 Hindustan Times, Lucknow |
Varul Mayank
If you hold a strong opinion for or against the state government's offensive against cow slaughter, you can take a quick opinion poll by logging on to the website of UP chief minister Yogi Adityanath.
The website (www.yogiadityanath.in) is reportedly being managed by Santosh Yadav, a close aide of the CM, from Gorakhnath Mutt.
The opinion poll appears at the bottom of the homepage and reads: 'Do we need to formulate a strict law to stop cow slaughter?'
The respondents are required to choose between 'yes' and 'no' and mention their full name and mobile number to record their response. The opinion poll was started before Aditya Nath took over as the CM.
As of now, 98 per cent of the respondents have supported the formulation of strict laws to curb cow slaughter.
The website's content is in Hindi and it also has videos and pictures of Aditya Nath's swearing-in ceremony.
A close aide of the CM confirmed that the opinion poll was managed by the technical team of Gorakhnath Mutt and added that a new poll was updated on the website every month.
The website also has dedicated sections of 'join us' and 'your views'. On the bottom right of the website, people's views have also been displayed.
The blog section of the website was, however, last updated in February 2014. It contains articles on Hinduism in Nepal and Indian culture.
One can also get access to complete information about Aditya Nath and the famous Gorakhnath Mutt. The website also gives an option to the visitors to navigate to web pages of other institutions associated with Gorakhnath Mutt and Aditya Nath. These include hospitals, blood banks and educational institutes.
The website is also linked with dedicated social media accounts of the CM having the username @myyogiadityanath on twitter.
Both facebook and twitter accounts are regularly updated with information of schemes and the pictures of Aditya Nath. The social media accounts of Aditya Nath have also started sharing the posts of the twitter account of the chief minister's office.
Personalise your news feed. Follow trending topics