History lesson for AIADMK: 10 times MLAs were kept under watch, in luxury
Feb 10, 2017 07:30 AM IST
The AIADMK power game between Sasikala Natrajan, a close friend and confidante of former Tamil Nadu chief minister Jayalalithaa, and the incumbent CM O Panneerselvam, is the not the first one where horse-trading before a floor test is likely.
A luxury resort 80 kilometres from Chennai is at the centre of a political storm in Tamil Nadu where AIADMK leaders O Panneerselvam and VK Sasikala are pitted against each other.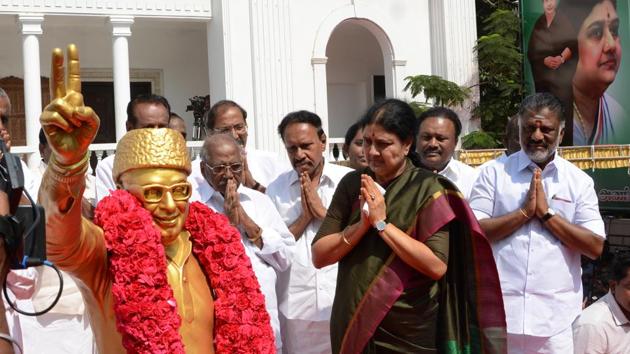 On Wednesday, around 130 party legislators were packed off to the resort by Sasikala's faction in an attempt to ward off poaching threats.
But this isn't the first time such a political drama is unfolding. Tamil Nadu and several other states have seen similar developments, with varying results.
1988, Tamil Nadu: A month after sitting chief minister MG Ramachandran died in December 1987, the war of succession between Jayalalithaa and Janaki Ramachandran, his wife, saw legislators of two factions holed up in resorts.
The faction backing Janaki proved majority before the Governor, which Jayalalithaa termed "unconstitutional".
On the floor of the assembly, legislators from the Janaki faction assaulted MLAs from the Jaya faction. The man who allowed it to happen was then speaker, PH Pandian -- the same AIADMK leader who is now supporting OPS and said Jaya might have been murdered.
Janaki was elected as CM, but her government was dismissed after 24 days by Rajiv Gandhi, who described the assembly events as a "slur on democracy".
President's rule was imposed and DMK won the election a year later. In 1991, Jayalalithaa won polls and became chief minister for the first time.
2016, Uttarakhand: Both the Congress and BJP sent their legislators to resorts before a crucial trust vote in the Uttarakhand assembly (on Supreme Court's direction) to prevent poaching. The Congress won the vote.
2016, Karnataka: The Karnataka Congress reportedly kept independent legislators in a hotel in Mumbai to prevent poaching by rival BJP before the Rajya Sabha polls. Facing criticism, the legislators were allowed to come back.
2007, Arunachal Pradesh: A group of 20 legislators were kept in a resort in Gurgaon reportedly by Dorjee Khandu, who had engineered a rebellion against then chief minister Gegong Apang, to become CM.
2005, Jharkhand: To prevent the Arjun Munda government from falling, the BJP ferried about half a dozen independent legislators to a resort in Rajasthan. A year later, these legislators supported Madhu Koda, who formed the government with the help of the Congress and the Rashtriya Janata Dal (RJD).
2005, Bihar: A group of Lok Janshakti Party MLAs were kept in a Jamsedhpur (Jharkhand) hotel to help Janata Dal (United)-BJP combine form a non-RJD government. The BJP in Jharkhand provided logistical support to the MLAs.
2002, Uttar Pradesh: The Bahujan Samaj Party (BSP) kept its legislators in a secret location to allegedly prevent poaching by the Samajwadi Party (SP), which had won the most number of seats. SP's Mulayam Singh was short of about 50 legislators in a house of 403 and was looking to break the rival BSP. Keeping the legislators confined helped the BSP to form the government with the BJP.
2000, Bihar: The Congress and RJD kept their MLAs from south Bihar (present day Jharkhand) in a Patna hotel to prevent Nitish Kumar from luring them. Kumar became CM for seven days when the RJD failed to submit its list of supporters within the stipulated time but lost votes on floor of the house.
1998, Uttar Pradesh: The BJP flew its legislators in a chartered plane to Delhi and kept them at a secret location to prevent Loktantrik Congress of Jagdambika Pal from poaching them after the Kalyan Singh government was dismissed by Governor Romesh Bhandari. Pal replaced Singh and became CM for 48 hours. Singh won the floor test and became CM again.
1984, Andhra Pradesh: Chief minister NT Rama Rao confined his loyalists in hotels in Hyderabad, Delhi and Bangalore after he was sacked by Governor Ram Lal in an Independence Day coup by his cabinet colleague Nadendla Bhaskara Rao. Lal was eventually sacked and replaced by another Congressman Shankar Dayal Sharma.
(With inputs from HT Correspondents in New Delhi, Ranchi, Patna and Lucknow)