How will India's homeless get Aadhaar numbers, SC asks Centre
The Supreme Court said the government has not even given other forms of identity proof, such as voter ID cards, to those without a residential address.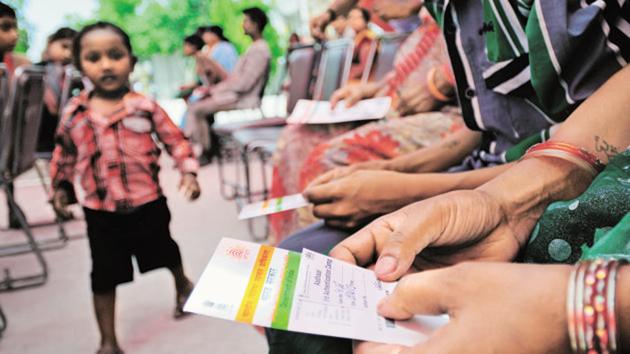 Updated on Jan 10, 2018 10:34 PM IST
The Supreme Court on Wednesday asked the Union government to explain how it plans to provide Aadhaar numbers to homeless people across the country.
A bench headed by Justice MB Lokur posed this question to central government law officer Tushar Mehta while hearing a public interest litigation on night shelters. "How can a homeless person get an Aadhaar card when you insist on address proof? The homeless do not seem to exist for the Union (government) of India," the bench said upon being informed that around 90 crore people have been issued Aadhaar numbers.
The court posed the query after the Uttar Pradesh chief secretary said that people were required to have documents proving their identity, such as Aadhaar cards, if they wanted to use night shelters.
Mehta, in his response, said he would prefer to not address the query as Aadhaar card enrolment was not the issue before the bench. However, advocate Prashant Bhushan –appearing for petitioner ER Kumar – agreed that the government has not bothered to provide any identity proof to the homeless.
The court also noted that the government has not even given other forms of identity proof, such as voter ID cards, to those without a residential address.
The government is trying to make the 12-digit unique identity number mandatory for people across the country to access basic needs such as mobile connectivity, banking and welfare schemes. The constitutional validity of Aadhaar is pending before a five-judge bench, which will soon hear a batch of petitions against several government notifications that make the identity number mandatory for its social welfare schemes and services.
Civil right activists also argue that biometric fingerprints and iris scans, which are taken for the issuance of Aadhaar numbers, violate an individual's right to privacy and are prone to misuse.
A recent affidavit filed before the Supreme Court claimed that although Aadhaar card details of 135 million citizens have been leaked by various government agencies until now, no action has been taken against the personnel concerned.
The bench also expressed displeasure over the pace at which night shelters were being constructed across the country. It directed all states and Union territories in the country to form three member coordination committees, each headed by the principal secretary of the urban development department, to periodically monitor the work.
The next hearing will be held after four weeks.
Close Story
Personalise your news feed. Follow trending topics