HT interview: Perception about UP changing... focus on development, says Yogi
Feb 06, 2023 11:25 AM IST
The buzzwords in Uttar Pradesh (UP) today are investment and industrialisation
The buzzwords in Uttar Pradesh (UP) today are investment and industrialisation. Chief minister Yogi Adityanath has mobilised his official machinery, from the bureaucracy to lawmakers, to gather investments in a state once infamous for its hafta (extortion) lobby. Adityanath has been on a drive to encourage investors to put their best foot forward and could script a new chapter in the development of India's most populous state if he succeeds in turning investment promises into projects. In an interview with Sunita Aron a week before the Global Investors Summit in Lucknow, the CM shared his plans and challenges.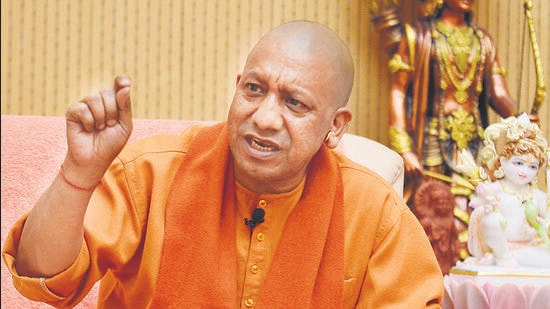 The government may meet the summit target of investment of ₹17. 33 lakh crore, up from the initial target of ₹10 lakh crore. What's the next challenge?Investment in Uttar Pradesh is going to be proportionate to its population. It will give wings to the Prime Minister's vision for the development of the state.
The conversion rate of investment across the country is low. Have you fixed any target for conversion of promises to projects? Everyone has seen three groundbreaking ceremonies in UP in the six years of Bharatiya Janata Party (BJP) rule along with the enthusiasm of the investors. In 2018, the state received investment intent of ₹4.68 lakh crore, of which approximately ₹4 lakh crore started on the ground.
We have defined sector-wise policies and provided them to investors. An investment portal has been launched to track and implement the investment proposals. Moreover, we have appointed niveshak mitra (friends of investors), who will help every investor in the execution of their projects. I don't think there will be any type of obstacles in the implementation of the memorandums of understanding (MoUs) as the government is moving in a very systematic manner.
But do you have any timeline to implement MoUs, say before 2024 or 2025?Our effort will be to convert all MoUs that have come under our various policies into projects in a time-bound manner. A niveshak mitra will be attached to every investor to monitor and guide. Moreover, the state has also introduced an incentive-based monitoring system.
In 2003, the state had set up an industrial development council with top-notch industrialists of the country on board to get investments. Little or nothing came. What gives you confidence in converting investment intents into projects? The perception about UP has changed as people are willing to believe that UP can not only think and talk of development but also implement it.
What has changed in UP? This is not the first time that the red carpet has been rolled out for industrialists. Is it the bulldozer? Yes, the rule of law is one positive message that has gone to the investor.
UP was infamous for two reasons: Bureaucratic red tape and hafta lobby? Did industrialists raise these apprehensions and how did you allay them? Yes, they used to complain about poor law-and-order in earlier days. But now everyone accepts that there is a better environment of security. Also, the Prime Minister's focus on technology has helped in a big way as no file will ever get buried or stuck anywhere. It is because of technology that 350 formalities will be cleared quickly through a single-window system. Technology will check human interference and red-tapism.
Has the bulldozer also helped in changing the perception?The rule of law should prevail. Whatever was done, was done as per the law. The focus is now on development-oriented programmes which could make the life of every individual better.
Which are the countries you are especially pinning hopes on?We have worked in four directions. The first was our delegations headed by ministers visiting 21 cities in 16 countries mustering ₹7.12 lakh crore of MoUs. The response was good in all countries. Thereafter, they visited eight states and 75 UP districts. The third was holding roadshows in districts which had never been done before. The fourth is a direct connection with the youth. Our 50-odd bureaucrats and academicians will be interacting with them in universities, explaining government policies, and involving them in the state's growth plans. It is now an opportunity for us to connect institutions with the industry. We are also appointing 100 young people to help investors.
You went only to Mumbai. People were expecting you to travel abroad. What happened?I had to go, but because of my engagements in the state, I could not. I will visit soon.
How much is the pride factor working? Has any investor met you with an intent to return to his state?I will not disclose the names but many have come forward, showing their emotional interest in investing in their state. We will introduce them all soon. Wait for the summit. Before and after GIS, you all will meet them. There is one investor who spent his childhood in UP. He is a big name in the world. When he came to know about our pride plan, he came to meet me and promised to invest a very handsome amount. I will not disclose his name.
You have involved local small investors also by holding summits in districts. You think they can also have a role to contribute to the state's growth story?They are already active partners in UP's growth. I told them it is not important whether you are going to invest ₹100 crore or ₹5 crore. You are a partner in UP's growth. Their response was overwhelming. For the first time, investors summits will be held in all the 75 districts after Lucknow. Whatever investment they make, it will create employment opportunities and an atmosphere for the state's development.
ODOP (One District One Product) was your initiative – the state's flagship scheme has been picked up by the Centre and other states. How far will the summit give a push to ODOP?Micro, small and medium enterprises are the base of investment. It has helped in increased exports as we worked on its design and marketing. Now ODOP is a national programme.
U.P. is also known for regional imbalances? Now, which regions are really in demand other than NCR?People are willing to invest in any part of the state provided there is infrastructure and connectivity. East UP and Bundelkhand were the most-backward regions some years ago. But today they are standing at par with west UP in attracting investments. We will have to work hard, but it's a good sign.
Is there any assessment of the job opportunities that it would create?Lakhs of young people will get jobs.
You think the temperament of your lawmakers is also changing – from transfer posting to investment? How much are they contributing ?MPs and MLAs are contributing in roadshows held in districts. Yes, there is competition. The district which performed the best will be rewarded.
Why are you not involving the Opposition in UP's development?The Opposition is not interested in the development of the state. They are not recovering from their narrow vision. They don't have a positive approach.
What is your interpretation of a particular passage in Ramcharitmanas? Does it denigrate the Shudras and backwards as claimed by some?The public is giving them a befitting reply again and again. They are raising these issues only to divert attention from the development agenda of the state.
Dhol Ganwar Shudra Pashu Nari Sakal Taadana Ke Adhikari. What does this mean?What is right or wrong, only those who know the Avadhi language will be able to understand. Not everyone can understand. However, this is not an appropriate forum to explain what is right or wrong. I will answer all these at the right time and at the right place.
Of late, you have been quite reserved, are you no more a firebrand?I will be a firebrand where it is required to be. Right now our focus is on development and investment. The press has not taken note, but I have said what I had to say at the right forum.
So, your agenda, philosophy and ideology remain unchanged?My agenda has always been development and so it is today.
So, Hindutva is not your agenda?Hindutva is my soul.
The state government and the BJP will enter the 2024 poll arena with one mega project – Ram temple – completed and industrial projects underway?People see the works of the double-engine government, and a picture of new Bharat will also come before the globe. And mandir, too, will be ready.
Enjoy unlimited digital access with HT Premium
Subscribe Now to continue reading
Topics