IAF trainer aircraft crashes near Hyderabad, pilot safe
Published on Sep 28, 2017 06:48 PM IST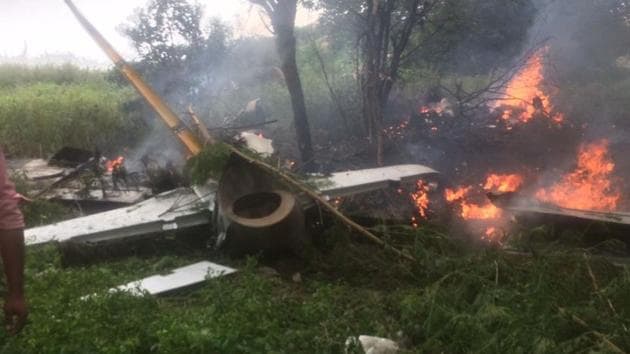 Press Trust of India |
, Hyderabad
Press Trust of India
An Indian Air Force (IAF) training aircraft on a routine flight today crashed in secluded place in Telangana's Medchal district before bursting into flames, but the pilot is safe, police said.
The accident occurred around 11.45 am in Ankireddypalli village, about 30 km from the Telangana capital, but the pilot ejected safely before the crash.
The Kiran trainer aircraft had taken off from the Air Force Station at Hakimpet here, ACP (Kushaiguda Division) Syed Rafeeq said.
"The pilot, identified as Aman Pandey, ejected safely using a parachute. The aircraft crashed around 2 km from the point where the pilot ejected. It crashed in an isolated place near an agricultural field and erupted in flames," Rafeeq, told PTI after visiting the crash site.
The officer said there was no damage on the ground as there were no houses or people at the place where the airplane crashed.
The ACP cited a villager who had spotted the aircraft flying low and later heard a loud explosion.
"According to the villager, soon after crashing the aircraft burst into flames," Rafeeq said.
Rachakonda Police Commissioner Mahesh Bhagwat said IAF officials visited the scene of the mishap and took the pilot along.
"Two fire tenders were immediately rushed to the spot to douse the blaze," he said.
"The pilot is safe. A CoI (Court of Inquiry) will be ascertaining the cause of the accident," an IAF statement said.
On March 3, 2010, two pilots had been killed after a Kiran MK-II plane, which was part of the 'Sagar Pawan' aerobatic team participating at the India Aviation show, had crashed into a building in Hyderabad.