ICJ stays Kulbhushan Jadhav's death sentence by Pakistani court
India challenged Jadhav's sentence last week, basing its arguments around what it says were violations of the Vienna Convention on foreign relations.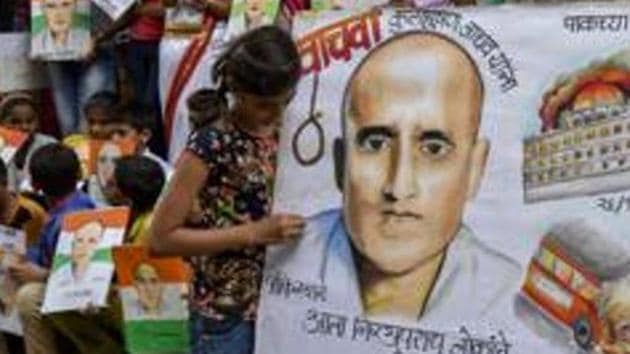 Updated on May 18, 2017 06:04 PM IST
The International Court of Justice on Thursday ordered Pakistan not to execute Kulbhushan Jadhav, a former Indian Navy officer convicted of alleged espionage and terrorism, till it gives a final decision on New Delhi's petition to annul his death sentence.
Ronny Abraham, president of the United Nations' highest court in The Hague, said: "Pakistan shall take all measures at its disposal to ensure that Mr Jadhav is not executed pending the final decision in these proceedings and shall inform the court of all the measures taken in implementation of the present order."
In its "provisional measures" that were adopted unanimously, the 12-judge tribunal said it would remain "seized of the matters" which form the subject of its order until it gives its final judgement.
The order came three days after India and Pakistan presented their arguments in the case of Jadhav, which has further strained bilateral relations.
Pakistan says Jadhav, 46, was arrested in March last year in the restive Balochistan province. In April, a military court sentenced him to death for alleged involvement in spying and subversive activities. India has contended he was kidnapped from the Iranian port of Chabahar and his secret trial was a "farce".
At the hearing on Monday, India described Jadhav's trial as a "serious miscarriage of justice" because Indian diplomats were not granted consular access to him and he wasn't allowed to choose his own defence lawyer. India argued that these restrictions amounted to a breach of the 1963 Vienna Convention on Consular Relations.
Pakistan claimed the ICJ did not have the jurisdiction to take up Jadhav's case as it was a "national security" issue, and that the court did not need to issue an order to stay his execution because it wasn't imminent.
However, the ICJ concluded it has "prima facie jurisdiction" as Pakistan's alleged failure to provide "requisite consular notifications with regard to the arrest and detention" of Jadhav and "the alleged failure to allow communication and provide access to him" fell within the scope of the Vienna Convention.
India's contention about Jadhav's rights to consular notification and access "are plausible", the ICJ added.
The ICJ also agreed with India's arguments about the urgency of Jadhav's case.
"It considers that the mere fact that Mr Jadhav is under a death sentence and might therefore be executed is sufficient to demonstrate the existence of a risk of irreparable prejudice to the rights claimed by India," the order said.
The ICJ noted that Pakistan had indicated that any execution "would probably not take place before the month of August 2017".
"This means that there is a risk that an execution could take place at any moment thereafter, before the court has given its final decision in the case. The court also notes that Pakistan has given no assurance that Mr Jadhav will not be executed before the Court has rendered its final decision," it added.
Close Story