'Independence movement' like in J-K can be suppressed but not finished off: Pak envoy
Pakistani envoy Abdul Basit has said the "independence movement" in Kashmir can be suppressed for some time but not finished off.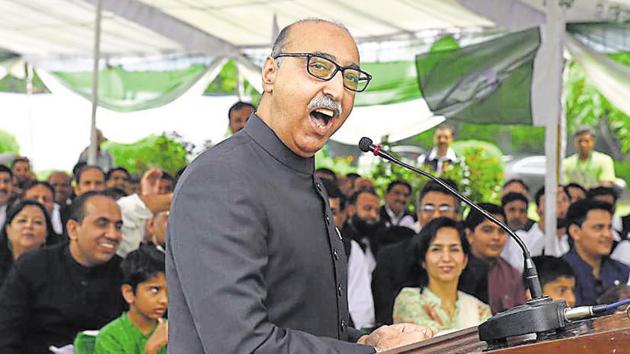 Updated on Mar 23, 2017 03:05 PM IST
An "independence movement" such as the one in Jammu and Kashmir can be suppressed for some time but it cannot be finished off, Pakistani envoy Abdul Basit said on Thursday.
He made the remarks at an event organised at his country's high commission here to mark Pakistan Day. They came against the backdrop of a chill in bilateral ties and could anger New Delhi, which has repeatedly accused Islamabad of interfering in Kashmir.
During his speech, Basit reiterated Pakistan's position that the Kashmir issue, which had long been a cause of "acrimony", must be resolved by the two countries according to the "aspirations of Kashmiris".
Speaking in Urdu, he said, "Tarikh gawah hay ki azadi ki tehrik huyin hain unko waqti taur pe dabaya ja sakta lekin...khatam nahin kiya ja sakta. (History is witness that independence movements are such that they can be suppressed for some time…but they can't be finished off.)"
He added he hoped that the "struggle of the Kashmiris will…be successful".
Asked what he meant by "aspirations", Basit replied, "Whatever the people of the (Kashmir) Valley want, we should go by that."
Basit further said that Pakistan wants a good and peaceful relationship with India and desires to settle all issues, including Kashmir, through dialogue.
"Our policy is to promote peace, especially in Asia, where we have tried to have better ties with all our neighbours. These ties must be based on equal footing and loyalty and our efforts have been in that direction," he said.
Peace is in the interest of both countries and Pakistan's efforts to seek a dialogue with India should not be seen as a sign of weakness, Basit said.
Pakistan Day commemorates both the Lahore Resolution passed on March 23, 1940 for the creation of a separate homeland for Muslims in South Asia and the adoption of Pakistan's first Constitution on the same day in 1956.
The day was also marked by a military parade in Islamabad, where President Mamnoon Hussain said Pakistan is ready for talks with India on all issues, including Kashmir, which he described as an "unfinished agenda of Partition".
Hussain accused India of jeopardising peace by violating a ceasefire along the Line of Control in Kashmir.
(With inputs from agencies)
Close Story