India announces $5-billion line of credit to Bangladesh, 22 pacts signed
Apr 08, 2017 08:51 PM IST
Prime Minister Narendra Modi held extensive discussions with his Bangladeshi counterpart Sheikh Hasina.
India announced a $5-billion loan to Bangladesh on Saturday and signed bilateral pacts to step up nuclear and defence cooperation between the neighbours, though the contentious Teesta water sharing-deal remained elusive.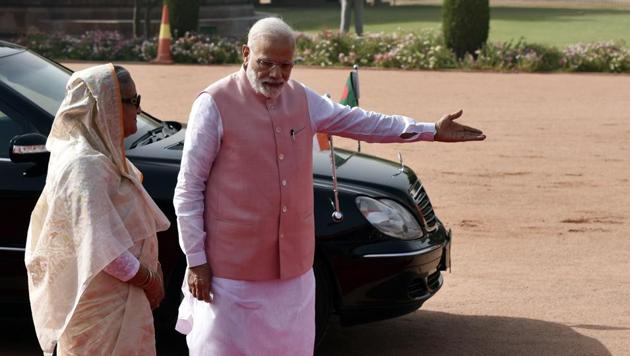 The line of credit was the biggest offered to any country at one go by India and underlined New Delhi's efforts to wean away Dhaka from China, the biggest supplier of defence equipment to Bangladesh for many years.
Prime Minister Narendra Modi kept hopes alive for early signing of the Teesta pact after a 90-minute meeting with his Bangladesh counterpart Sheikh Hasina, who is on a four-day visit to India, her first since the BJP government came to power.
"I firmly believe that it is only my government and...your government, that can and will find an early solution to Teesta water sharing," Modi said at a press briefing.
Bengal chief minister Mamat Banerjee was opposed to the pact which is seen as vital for millions of farmers in Bangladesh. A deal was aborted at the very last minute during former Indian prime minister Manmohan Singh's visit to Bangladesh in 2011.
In 2015, Modi signed a historic land border pact with Dhaka, removing a major irritant and infusing a new warmth between the two countries that share a 4,097 kilometre-long porous border.
While 22 pacts were signed on Saturday, the two countries are expected to sign another 12 business deals which would entail investments of $9 billion.
Out of the $5 billion credit, $4.5 billion is for infrastructure such as roads, ports, airports and setting up power transmission lines. The other $500 million is for buying defence equipment from India.
This took India's total line of credit to Bangladesh to $8 billion in the past six years.
"India has always stood for the prosperity of Bangladesh and its people. We are a long-standing and trusted development partner of Bangladesh," Modi added.
"We want to build cooperation in new areas, especially some high-technology areas that have a deeper connect with the youth in both our societies."
The Prime Minister also said both sides agreed that peace, security and development for people of the two countries and for the region will remain central engagement between the two neighbours.
On her part, Hasina said her government will take all necessary steps to ensure peace and security along the Indo-Bangla border and asserted that there will be zero-tolerance against terror.
Her comments came amid a spate of attacks on the Hindu community in Bangladesh.
Later at a function, Hasina honoured 1,661 Indian soldiers killed during the Bangladesh's war of liberation from Pakistan. India's intervention on behalf of Bangladesh's independence fighters proved decisive in that conflict.
Hasina, whose Awami League is historically seen as more sympathetic to India than its arch-rival Bangladesh Nationalist Party, said the two countries will jointly produce a documentary on the 1971 War of Liberation of Bangladesh, a move that is likely to irk Pakistan.
(With agency inputs)