India at 70: From tinderbox to Kashmir Box, one man's tale of entrepreneurship
Muheet Mehraj's abiding memory of Independence Day is being home without internet. As part of security protocol, internet services are suspended in Kashmir every August 15. Now, he runs a successful e-commerce website, Kashmir Box.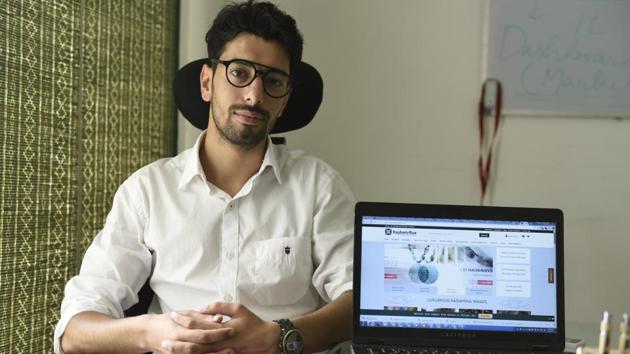 Updated on Aug 12, 2017 07:29 AM IST
India is days away from celebrating its 70th Independence Day. Independence has helped people and communities to smash barriers of caste, class, gender, ability and faith and achieve their dreams. But structures of oppression persist, and many people languish in islands of darkness where freedoms are few and choices absent.
HT brings you stories from of hope, courage and perseverance in "free India", and of isolation, hate and despair that stalk the "unfree India" .
In Part 2, read about the trials of Muslim men in Hyderabad and the success story of a Kashmiri businessman . Here is the Kashmiri businessman story:
Muheet Mehraj's abiding memory of Independence Day is being home without internet. As part of security protocol, internet services are suspended in Kashmir every August 15.
And yet, at the age of 21, when he decided to drop out of college to found his own start-up, he chose to rely on the internet. Today, 27-year-old Mehraj runs a successful e-commerce website, Kashmir Box.
"The best solutions often come from the worst places," he says with a smile.
From the finest Pashmina (cashmere) shawls and richly decorated paper mache products to intricately carved walnut wood furniture and packaged Goshtaba, of its famed Wazwan - Kashmir Box has a flavour of everything Kashmir.
Mehraj co-founded the site after realising the potential of online market for Kashmir products. "There are about 8,000- 10,000 stores which sell Kashmiri products but there is negligible presence online." The website started in the winter of 2011 with a Rs 1,500 loan Mehraj took from his mother.
Since then, it has thrived, growing from just two people working with 10 artisans to a 25-member team working with 2,500 artisans. On the way, it has picked up orders in 35 countries and even been awarded – all at a time of great turmoil for the e-commerce industry in India and e-tail giants like Amazon and Flipkart gobbling up market space.
Last year, Kashmir Box began its Delhi operations at a sparse office in Shahpur Jat in south Delhi. The expansion came at a time of great turmoil in the Valley in the aftermath of Burhan Wani's encounter last summer. "Our artisans would call us and say that we were their only link to customers so we had to deliver," Mehraj recalls.
Reaching office during the curfew was impossible, so they began work early morning from 5am - 7am before it came into effect and post 6pm till late night. But the unrest also had other repercussions. One employee was hit by a pellet gun, another rounded up and taken to the police station during the daily cycle of violence. He says, "We lost 60 percent business during that time and we haven't still recovered all of it. But for me, it was important to circumvent the problem, not cry about it."
Three people came down to set up an office in Delhi which became the hub. Courier services were not working so they had to go to the airport themselves and pack their products as freight to Delhi, from where the team would send it onwards.
While Mehraj says his Kashmiri identity was not a hindrance here, he admits that prejudices abound. He's received messages calling him "an agent" and comments like "Don't order from them, they may pack a bomb." His other peeve is that in media interviews about the brand, he is often unfairly asked about the political situation in Kashmir or his views on Pakistan, which has nothing to do with his work.
But he remains unfazed. And that has been possible since at the heart of the venture, Mehraj reiterates, is to make crafts lucrative for the craftsmen and revive the dying arts. He says, "The income of an artisan was lower than that of a daily wage labourer. Right now, we have managed to double that income. We want to make it five times."
Kashmir's rich tradition of handmade arts and crafts took a severe hit in the 90s as militancy peaked. Mehraj says they built their platform after identifying specific problem areas. "From high-end international luxury brands which sourced Kashmiri products before the 90s, the market became more local post that," he explains. This led to a rise in fake or cheap knock-offs flooding the market.
To counter these, Mehraj got a rigorous system of checks – for example, the Pashmina has to pass 31 parameters.
Mehraj refuses to divulge exact numbers on investment, revenue and profit but confirms they will be raising a round of funding later this year. "Everyone wants to build a marketplace. We want to create an ecosystem and have social impact. We are a business with a heart."
Close Story
Personalise your news feed. Follow trending topics