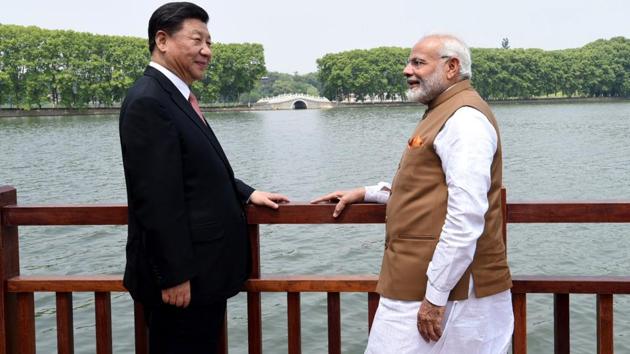 India-China ties improve, but doubts remain
China's proximity to Pakistan is not something India likes. Also, the dragon's strong economic interventions in South Asia and forays in the Indian Ocean are sources of worry for India.
Hindustan Times, Beijing | By Sutirtho Patranobis
, Beijing
UPDATED ON JUL 17, 2018 09:32 AM IST
At one point during their informal summit in the central Chinese city of Wuhan in April, President Xi Jinping asked Prime Minister Narendra Modi whether it was possible for India and China to work together on a project in Afghanistan. Modi agreed
A few weeks later, after Modi and Xi met again on the sidelines of the Shanghai Cooperation Organisation (SCO) Summit in the coastal city Qingdao, foreign secretary Vijay Gokhale announced the two countries will undertake a capacity-building project in war-torn Afghanistan — their first third-country joint project.
It has also emerged that India will discuss its Indo-Pacific policy with China during the upcoming second IndiaChina Maritime Affairs Dialogue to be held in Beijing.
India's outreach to China on the IndoPacific will happen, though New Delhi is clubbed in the Quadrilateral Alliance or "Quad" with the US, Japan and Australia, formed apparently to calm Chinese influence in the Asia-Pacific.
The Afghanistan project and India's decision to discuss the Indo-Pacific were not isolated diplomatic decisions. Stalled dialogue mechanisms are being revived, the only bilateral military exercise will be held again this year and several highlevel exchanges will take place, peaking with Xi's visit to India next year.
On some counts, the Indian government seems to be going the extra mile. It had asked officials not to attend Tibetan leader Dalai Lama's events earlier this year and it also directed national carrier Air India to switch to the name "Chinese Taipei" from Taiwan – as demanded by China – on its website.
All this reflects a remarkable turnaround in ties since the Doklam military standoff last year, with consensus seemingly replacing confrontation and competition in defining the Sino-India relationship. What prompted these diplomatic adjustments?
Diplomatic sources said how India and China view the world is becoming increasingly important, especially in the context of Washington's unpredictable diplomatic decisions and protectionist ideas on trade.
Also, there has been an evolving view in New Delhi's political circles about the need to rebalance ties between Beijing, Moscow and Washington.
"Hence, the informal summits in Wuhan and Sochi (in Russia with President Vladimir Putin in May)," a person familiar with the latest developments said. The tilt was sensed during the tenure of former US president Barack Obama and has strengthened in the past few years. It was necessary to send a signal to the world community that India was and will be a strategically independent country. "Even on the Quad, India will take its own decisions," the person quoted above said .
It isn't surprising that a volatile and rapidly changing international order will have its impact on the two Himalayan neighbours, who are juggling diplomatic and strategic ambitions and a sense of responsibility to create a more equitable world order.
"The great cooperation between our two great countries can influence the world," Xi said in Wuhan.
In his keynote speech at the Shangri-la Dialogue in Singapore last month, Modi added to that narrative, saying "strong and stable" India-China relations are an important factor for global peace and progress.
"I firmly believe that Asia and the world will have a better future, when India and China work together in trust and confidence, sensitive to each other's interests," Modi said.
This positive narrative and the broad sense of bonhomie in the bilateral relationship doesn't, of course, mean that festering problems in the ties have dissolved — the border dispute remains and so does the Dalai Lama in India, a ready trigger for China's anger.
India also continues to lose out in bilateral trade, Beijing's more snug with Islamabad than ever before and so on.
China's strong economic interventions in South Asia and increasingly sharper forays in the Indian Ocean region are sources of worry for India as well. Especially worrying for India is China's deployment of warships and submarines in the Indian Ocean.
Experts said these worries will not disappear. Not now, not in the future.
"China is seeking to build a blue water navy and this involves assets that could deploy to extra-regional waters, such as the Indian Ocean, where it has substantial strategic and economic interests. PLA-Navy deployments to the Indian Ocean region have so far consisted of surface combatants (destroyers, frigates and smaller warships) and submarines, and this is likely to persist for the next several years," said Ben Ho, a naval analyst with the Military Studies Programme of the S Rajaratnam School of International Studies in Singapore.
Liu Peng from Kunming-based Research Institute for Indian Ocean Economies argued that China's increasing forays into the Indian Ocean is to mostly protect its own economic interests. "China was both the world's largest export and import country in 2017, with the total volume of trade at more than $4 trillion. China's trade through the Indian Ocean is increasing since its top trade partners are the EU and the US and much of it is conducted through the Indian Ocean region," Liu said.
Is it, however, possible that the Indian Ocean region could develop into a region of more intense maritime conflict between India and China?
Very much so, experts said. China, for example, already has strategic access to ports in the region, including Gwadar in Pakistan and Hambantota in Sri Lanka. "Currently, there is no Chinese military presence in Gwadar, but given the inroads Beijing has made in the Indian Ocean region in recent years, it is not inconceivable that the PLA will have access to the Pakistani port city one day," Ho said.
"Should this come to pass, Beijing will gain a strategic foothold in the northern Indian Ocean because of the port city's location — it is only a few hundred kilometres away from the Strait of Hormuz, where a good portion of Chinese oil imports passes through."
India will have to factor in China's expanding influence in South Asian countries as New Delhi and Beijing attempt to build a new type of relationship that focuses on areas of convergence, not divergence.
"With growing economic power and the Belt and Road Initiative (BRI), China's influence in South Asia has expanded rapidly, which puts India under a lot of strategic pressure. The China-Pakistan Economic Corridor, the flagship project of the BRI, makes India uneasy over security and territorial concerns," Lu Yang, South Asia expert at Tsinghua University's Belt and Road Institute, said last week at a seminar organised by the Centre of India Studies of China West Normal University.
Modi and Xi spent nearly 10 hours talking "heart to heart" while visiting a museum, strolling in a garden, taking a boat ride and drinking tea in Wuhan.
Was that time well spent? We will know in the not-too-distant future.
Close