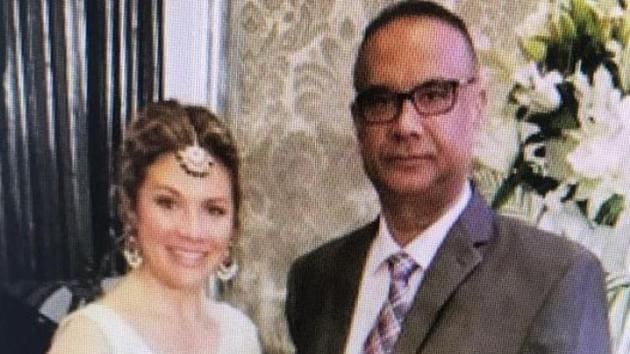 India probing how Khalistani terrorist Jaspal Atwal got visa, Justin Trudeau says he should never have been invited
Ministry of external affairs says it is ascertaining how visa was issued to convicted Khalistani terrorist Jaspal Atwal.
UPDATED ON FEB 22, 2018 09:47 PM IST
India on Thursday was "ascertaining" details about how convicted Khalistani terrorist Jaspal Atwal got a visa as Canadian prime minister Justin Trudeau said the Indo-Canadian businessman should never have received the invitation to the official dinner as the incident made headlines.
"Let us not presume things and decide how he managed to come. This is something which we are trying to find out. In due course, we will be able to come up with a reason that how he managed to come in India," the spokesperson for the ministry of external affairs Raveesh Kumar said.
"There are two aspects to it: presence and visa. The Canadian side has already clarified that the invitation has been withdrawn. About the visa, I don't know how it happened. We will ascertain information from our commission," Kumar added.
Atwal, who was photographed with Trudeau's wife at an event in Mumbai on February 20, and three other men were convicted of the attempted murder for the 1986 attack on Akali Dal leader and minister Malkiat Singh Sidhu on Vancouver Island.
"Obviously, we take this extremely seriously. He should never have received an invitation. As soon as we received the information we rescinded it. A member of parliament had included this individual," Trudeau said.
Earlier, Canadian authorities said the invitation to Atwal to the dinner reception to be hosted by Canadian high commissioner Nadir Patel for Trudeau at the envoy's residence in New Delhi on Thursday night had been withdrawn.
As the invitation to Atwal made headlines political leaders and diplomats questioned Trudeau's assurance that his country won't support any separatist movement in India.
Congress' Sunil Jakhar said that Trudeau should respect the sentiments of the Indian government and the people of Punjab.
"He is the head of state and he had assured (chief minister) Capt Amarinder Singh that Canada will not support terrorism in any form," Jakhar said.
The Congress leader was referring to Trudeau's meeting with Singh on Wednesday where he said that Canada did not support "any separatist movement in India or elsewhere".
"Really happy to receive categorical assurance from Canadian PM@Justin Trudeau that his country does not support any separatist movement. His words are a big relief to all of us here in India and we look forward to his government's support in tackling fringe separatist elements," Singh tweeted after the meeting.
Senior Bharatiya Janata Party leader Subramanian Swamy also questioned the stand taken by Canada about not supporting Khalistan.
"It was foolish on our part to not do a background check. And how could Canadians, who claim that they do not support the Khalistani, allow the same," he was quoted as saying by ANI.
Former high commissioner of India to Canada Vishnu Prakash acknowledged the existence of a "cloud" on the Indo-Canadian bilateral ties due to the Khalistan issue.
"Unfortunately Canada is the only country in the world which is providing a platform, or is seen to be providing a platform to the Khalistan elements, Not the USA, not the UK and that is a matter of concern," Prakash told ANI.
Prakash, in addition to this, also underscored how the tiny faction of Khalistan elements, who control the gurdwaras, use money donated to them to propagate the radical agenda.
"Ninety-nine percent of Sikhs love Canada and India. There is a microscopic percentage of radical Khalistan elements who control Gurudwaras. Money, donated by pious Sikhs, goes to them and they use it to spread radical agenda and spread hatred towards India," Prakash explained.
'Canada must stop glorifying Khalistanis'
Ujjal Dosanjh, an Indo-Canadian politician in British Columbia and a vocal critic of the Khalistan movement who was allegedly attacked by Atwal in February 1985, said he was "flabbergasted" and "left speechless " to learn about the invitation.
Atwal was not convicted in the attack on Dosanjh because of a technicality related to his identification. The attack on the Punjab minister occurred almost a year later.
"This speaks volumes about the kind of inroads Khalistanis have made into the Liberal Party of Canada and the echelons of power," Dosanjh, who was brutally attacked in a parking lot, said.
Dosanjh, who went on to become the premier (chief minister) of the province and a federal cabinet minister, said this pointed to a "colossal failure" on part of those conducting security checks for the Trudeau visit.
"This is what I have been saying. This is not about freedom of speech, it is about Canadian politicians openly hobnobbing, associating with unquestionable elements that are Khalistanis," he said.
Dosanjh said politicians in his country have failed to appreciate India's deep sensitivities about Khalistani activities.
"There has been no blowback from India till now despite Canadian politicians going to parades, processions and events where posters of Air India bomber Talwinder Singh Parmar and other militants are displayed and they are celebrated as heroes," he said.
He said Indian Prime Minister Narendra Modi reportedly took Trudeau aside at Davos and told him that Khalistani activities in Canada were becoming a serious issue.
He added that is why Trudeau's two ministers, Harjit Sajjan and Amarjeet Sohi, made the statement that they have nothing to do with Khalistan just before their departure for India.
He said if Canadian politicians stop pandering to separatists and going to their events, the Khalistan movement will die quickly.
Dosanjh said Trudeau's statements about India's unity would be meaningless if politicians keep going to the events where militants are glorified.
"I cannot stop anyone from glorifying anyone, but what I can do is stop going to such events. This is what Trudeau and other politicians should do now. Or they should insist that they will not attend such events if the killers of innocent people are glorified."
Commentators said Trudeau received a lukewarm reception because of his failure to clearly speak out against Sikh extremists and Khalistani terrorists in Canada.
Trudeau is also facing criticism for other aspects of his visit, including a number of events that have been described as photo opportunities with no substantive outcomes. Only half a day of the eight-day trip has been set aside for official engagements such as talks with Modi.
Close