India needs additional $1 trillion to achieve its climate goals: Govt to Rajya Sabha
Dec 03, 2021 12:45 AM IST
To a question on when India will phase out coal powered plants in India, the Union environment ministry said coal will stay a major source of energy in India
New Delhi: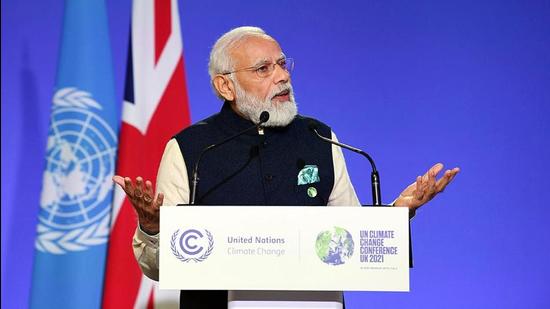 India will require approximately $1 trillion by 2030 to achieve the India's national goal on climate change which was announced at the Glasgow Climate Change Conference (COP 26) last month, the Union environment ministry informed the Rajya Sabha on Thursday.
To be sure, the announcements made at Glasgow are not yet nationally determined contributions (NDCs). Under the Paris Agreement, India submitted its NDCs in 2015 with three quantifiable targets, and they remain the same.
These included reducing the emissions intensity of its Gross Domestic Product (GDP) by 33 to 35% by 2030 from 2005 level; to achieve about 40% cumulative electric power installed capacity from non-fossil fuel-based energy resources by 2030; and to create an additional carbon sink of 2.5 to 3 billion tonnes of CO2eq through additional forest and tree cover by 2030.
On top of these, PM Modi as part of India's national statement announced on November 1 in Glasgow that: the country's non-fossil energy capacity will reach 500 GW by 2030; it will meet 50% of its energy requirements with renewable energy by 2030; it will reduce its total projected carbon emissions by one billion tonnes between now and 2030; it will reduce the carbon intensity of its economy by 45% by 2030, over 2005 levels; and it will, by 2070, achieve the target of net zero emissions.
India's climate actions have so far been largely financed from domestic resources and as per preliminary estimates, and at least US $2.5 trillion (at 2014-15 prices) would be needed for the Paris NDCs.
In addition, "it is estimated that additional announcements by India require additional climate financing requirements to the tune of approximately $1 trillion by 2030. India's commitments balance the concerns and priorities of climate change, sustainable development including poverty eradication, and economic growth of the country," the ministry's reply said.
HT had reported on November 10 from Glasgow that India's NDC is likely to be conditional to delivery of climate finance.
"The NDCs India announced in 2015 remain its NDCs. Whether India upgrades its NDCs and includes the new announcements remains to be seen. The new announcements are domestic goals for now. India has made a preliminary estimate of how much money India will need to achieve additional announcements which is substantial and in keeping with India's commitment to ambitious climate action," said former climate negotiator and ambassador, Manjeev Singh Puri responding to the Rajya Sabha reply.
To a question on when India will phase out coal powered plants in India, the ministry said coal will stay a major source of energy in India. "India's climate actions under Paris Agreement are nationally determined, and are undertaken in the context of equity, and common but differentiated responsibilities and respective capabilities in the light of national circumstances. Being an affordable source of energy with substantial reserve, coal is going to stay as major source of energy in the foreseeable future. Despite push for renewables, country will require base load capacity of coal-based generation for stability and also for energy security."
India managed to gain quite a few elements from COP 26. According to ministry's reply to another question on positive outcomes at COP 26, the ministry said on markets carbon markets (Article 6 of the Paris Agreement) has been finally resolved in a balanced manner that takes into account the concerns of developing countries, including India. India, along with other developing countries, convinced developed countries to agree for a transition of pre-2020 (Kyoto era carbon credits). The conclusion of Article 6 lays the ground for participation of the private sector in the new carbon markets that will emerge under the Paris Agreement.
On a question on why India is not a signatory to the global methane pledge, the ministry said in the context of food security, India's methane emissions are "survival" emissions. The global methane pledge was proposed by the European Union and the United States of America at the Major Economies Forum on Energy and Climate on September 17 targeting at 30% reduction in global methane emissions from 2020 levels by 2030. The two predominant sources of methane emissions in India are enteric fermentation and paddy cultivation. These emissions result from the agricultural activities of small, marginal, and medium farmers across India, whose livelihood stands threatened by the methane pledge, the ministry said.
Agriculture in developed countries is dominated by industrial agriculture. For India, methane emissions are 'survival' emissions and not luxury emissions, it argued.