India on Strategic Trade Authorisation-1 list of US, sign of trust in bilateral relationship: Indian envoy
Updated on Jul 31, 2018 03:26 PM IST
The granting of Strategic Trade Authorisation-1 (STA-1 ) status to India on Monday comes after the US recognised India as a "Major Defence Partner" in 2016.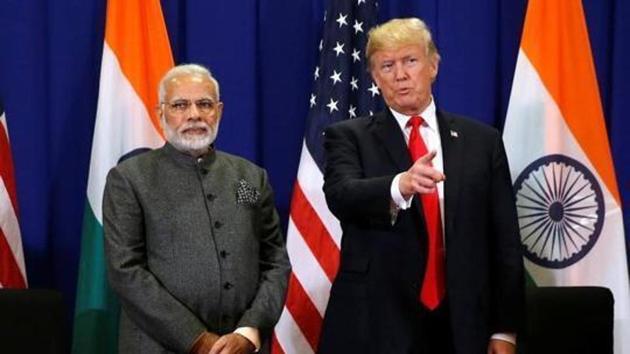 Washington |
Press Trust of India
The Trump administration placing India in the Strategic Trade Authorisation-1 (STA-1 ) list, that eases the export of high-tech items to it, is a sign of trust by the US on India's capabilities as an economic and a security partner and boosts the bilateral defence partnership in a big way, India's top diplomat in Washington said on Tuesday.
The granting of STA-1 status to India on Monday comes after the US recognised India as a "Major Defence Partner" in 2016.
"It is a sign of trust not only in the relationship but also on India's capabilities as an economic and a security partner, because it also presupposes that India has the multilateral export control regime in place, which would allow the transfer of more sensitive defence technologies and dual use technologies to India and without the risk of any proliferation," Indian ambassador to the US, Navtej Singh Sarna said.
Sarna's remarks came during his address to Washington audience soon after US Commerce Secretary Wilbur Ross designated India as an STA-1 country.
"This is an acknowledgement of the security as well as the economic relationship between India and the United States. This is a logical step of India being designated as a major defence partner," Sarna said.
The top Indian diplomat was responding to a question from Nisha Desai Biswal, president of US India business council, during a panel discussion at the first Indo-Pacific Business Forum organised by the US Chambers of Commerce.
At the start of the first-ever Indo-Pacific Business Forum, Ross announced that the Trump administration has granted to India strategic trade authorisation status STA-1.
"And that's a very important change in their status under our export control regime. It acknowledges the US-India security and economic relationship. What it does is it comes under the Export Administration Rules, and it authorises the export, reexport and in-country transfer of specific items to destinations that the US regards as low risk," he said.
Currently, 36 countries, mostly all NATO nations, have this status, so it's a very elevated status from an export control point of view, he said.
"It is because India has partnered with us to improve its own export control regimes, and has met most of the multilateral export rules that we think are useful. It finally reflects India's status as a major defence partner of the US," said the commerce secretary.
Ross said STA-1 provides India greater supply chain efficiency, both for defence and for other high-tech products, that will increase activity with US systems, the interoperability of the systems, and it will reduce time and resources needed to get licensing approved.
"We calculate that it will be a competitive advantage for the US, in terms of supplying those kinds of products to India. It looks as though over the last seven years, some USD 9.7 billion of products would have been affected, so it's a meaningful-sized number. And probably, it'll be much more than that because a lot of things they knew wouldn't be exportable, they didn't order from us," Ross said.
Later, in a statement issued by the US Department of Commerce, Ross said this new designation reflects India's membership in three of the four multilateral export control regimes like Missile Technology Control Regime and Wassenaar Arrangement as well the development of its national export control system.
US companies will be able to more efficiently export a much wider range of products to Indian high technology and military customers. India's new status will benefit US manufacturers while continuing to protect its national security, he asserted.
STA Tier 1 treatment, comparable to NATO allies, will expand the scope of exports subject to the Export Administration Regulations (EAR) that can be made to India without individual licenses. This regulatory change will enhance the bilateral defence trade relationship and result in a greater volume of US exports to India.
"This testifies to our excellent record that we have had in maintaining non-proliferation of these technologies," Sarna told leaders of the US corporate sector.
It is a timely announcement as it comes ahead of the 2+2 dialogue scheduled for early September when US Secretary of State Mike Pompeo and Defence Secretary James Mattis are due to visit India and meet with their counterparts, he said.
"I certainly think it fleshes out our defence partnership in a big way," Sarna said.
The White House later said that the Department of Commerce granting Strategic Trade Authorisation Tier 1 status to India would enable American companies to export more high-technology items under a streamlined license exception.
(This story has been published from a wire agency feed without modifications to the text. Only the headline has been changed.)
Close Story
Personalise your news feed. Follow trending topics