India's nuclear-weapon inventory set to increase: Report
Published on Jun 02, 2017 10:14 PM IST
The IISS report stated that India's base of long range nuclear missiles and nuclear submarines is set to grow, as a defence measure against China.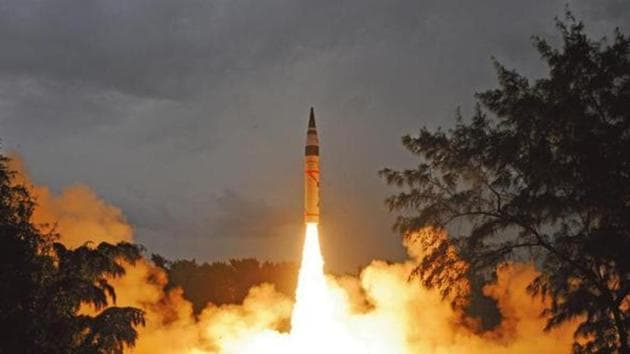 Press Trust of India |
, Singapore
Press Trust of India
India's nuclear-weapons inventory is expected to expand in both quantity and quality as the country is aiming to build an "adequate deterrent capacity" against China, according to a new report.
The report on Asia Pacific Regional Security Assessment for 2017 released by the International Institute of Strategic Studies at the ShangriLa Dialogue here today.
"Much of this will be driven by the need to build an adequate deterrent capacity against China," the report said.
"Analysts broadly agree that India holds around 100-120 nuclear warheads in its inventory, half of which are mounted on ballistic missiles," said the US-linked IISS report.
Currently, none of India's deployed surface-to-surface missiles has the range to cover all of China unless deployed close to the Sino-Indian border, it said.
However, India has at least two longer-range missiles under development, including the Agri-IV intermediate-range ballistic missile and the Agni-V intercontinental ballistic missile (ICBM), the report said.
A developmental ICBM dubbed Agni-VI with a planned range somewhere between 6,000 and 10,000 km was reported in local news media in 2013, it pointed out.
However, the status of existence of this project is unclear, added the report.
New Delhi is also developing a submarine-based nuclear force, the report said.
Its first nuclear-powered ballistic-missile submarine, the Arihant, began sea trial in 2014 and was reportedly commissioned in August 2016, it said.
Of the nuclear-capable missiles, various reports suggest the submarine might carry, the 700-km range K-15 cannot hit mainland China from the Bay of Bengal, while the K-4 may be able to target most of China if its reported 3,500-km range is accurate.
India is reportedly building four more submarines and will probably seek to develop longer-range missiles for them, said the report.
The Shangri-La Dialogue, an annual gathering of defence ministers, armed forces chiefs, military strategists an experts began this evening at Singapore's Shangri-La hotel.
It will be hearing speakers on various defence issues and security strategies tomorrow and ends at noon on Sunday.