India summons British envoy over debate in UK Parliament on farmers' protest
Updated on Mar 09, 2021 09:47 PM IST
Earlier, a statement from the Indian mission in London described the debate as a "distinctly one-sided discussion".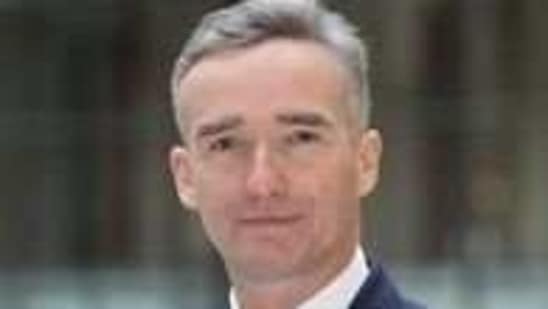 India on Tuesday summoned British envoy Alex Ellis to lodge a protest against what it said was an "unwarranted and tendentious" debate in the UK Parliament that saw lawmakers criticising the Indian government's handling of the farmers' protest.
The debate was held on Monday in response to a public petition that garnered more than 115,000 signatures, and witnessed Labour, Conservative, Liberal Democratic and Scottish National Party lawmakers calling on the Boris Johnson government to raise their concerns about the handling of the protest and media freedoms with the Indian government.
Most of the British MPs acknowledged the Indian government's agricultural reforms were a domestic matter but noted their constituents had strong links with India's farm sector and were upset by what they described as the use of force against protesting farmers. Conservative MP Theresa Villiers was the only one of about 20 lawmakers who joined the debate to defend the Indian government's actions.
Ellis was summoned by foreign secretary Harsh Shringla and served a demarche or formal diplomatic representation that conveyed India's "strong opposition to the unwarranted and tendentious discussion on agricultural reforms in India in the British Parliament", according to a statement from the external affairs ministry.
Shringla made it clear that the debate "represented a gross interference in the politics of another democratic country", and he "advised that British MPs should refrain from practising vote bank politics by misrepresenting events, especially in relation to another fellow democracy".
Earlier, a statement from the Indian mission in London described the debate as a "distinctly one-sided discussion". It said: "We deeply regret that rather than a balanced debate, false assertions – without substantiation or facts – were made, casting aspersions on the largest functioning democracy in the world and its institutions."
India's independent democratic institutions are addressing issues raised by the British MPs, and it was a matter of concern that "comments were made to mislead the British Indian community" and raise doubts about the treatment of minorities, the statement said.
Nigel Adams, the UK minister of state for Asia, while responding on behalf of the British government, said London will continue to monitor the farmers' protest "incredibly closely". He added, "Where we have concerns, we will continue to raise them with the Indian government while respecting the fact that these agricultural reforms are an internal matter."
Adams acknowledged the "strong feelings" about the farmers' protest and press freedom in India and noted these issues had caused "alarm among UK citizens with ties to India". He added, "We look to the government of India to uphold the freedoms and rights guaranteed to its people by its Constitution and by the international instruments to which India is party."
Though there is "great ambition" for the UK's relationship with India and both sides are on shared priorities in trade, investment, defence, health and climate change that will "help fix global problems", this doesn't hinder London from raising difficult issues with New Delhi, he said.
Prime Minister Boris John's upcoming visit to India will be an opportunity to "discuss a range of bilateral issues where we have serious and specific concerns", Adams said. "We will raise them directly with the Indian government as you'd expect of a friend," he added.
Several Indian-origin British MPs such as Virendra Sharma, Nadia Whittome and Seema Malhotra expressed concern about the use of force against protesting farmers. Labour Party MP Tanmanjeet Singh Dhesi, who has been at the forefront of efforts to raise the protests in Britain, said human rights are a universal issue and criticised the arrest of civil society activists and journalists.
Former Labour chief Jeremy Corbyn described the farmers' protest as the "biggest ever industrial dispute" in history while Labour MP Tahir Ali, who has his roots in Pakistan-occupied Kashmir, called on the UK government to consider imposing sanctions on the Indian prime minister and government.
Personalise your news feed. Follow trending topics