Indian engineer killed in Kansas: White House says reports on shooting 'disturbing'
Updated on Mar 04, 2017 01:51 PM IST
The White House broke its silence on the killing of Indian engineer Indian Srinivas Kuchibhotla as "disturbing" amid mounting pressure to condemn the apparent hate crime.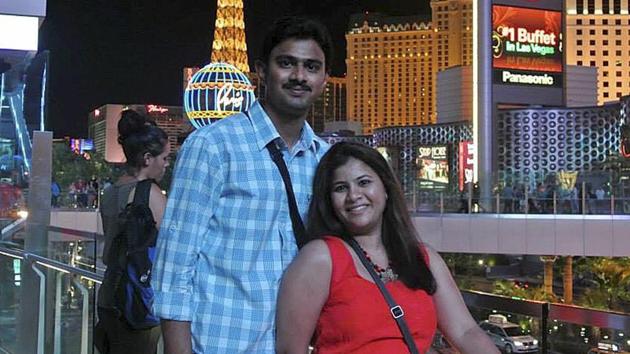 The White House has said reports on the killing of Indian engineer Srinivas Kuchibhotla was "disturbing", breaking its silence on the Kansas shootings amid mounting pressure to condemn what many believe is the latest in a series of hate crime across the US.
"I don't want to get ahead of the law enforcement, but I was asked the other day about the story in Kansas -- the shooting in Kansas," Trump's press secretary Sean Spicer said in his opening remarks at the daily briefing on Monday.
"While the story is evolving, early reports out of Kansas are equally disturbing," he said after condemning strongly, on the President's behalf, continued reports of vandalism at Jewish community centres, synagogues and cemeteries.
The US justice department is investigating the killing of Kuchibhotla, an Indian aviation engineer working with Garmin in Olathe, Kansas and the shooting of his friend Alok Madasani and Ian Grillot, an American who tried to help them heroically, as a possible hate crime.
His earlier perfunctory comment that "all killings are tragic" was condemned by many in the US and pressure was mounting on the White House to condemn the shootings, which have been attributed by some to a surge in antipathy towards immigrants, especially those from Muslim-majority Middle-Eastern countries targeted by this administration.
Adam Purinton, a 51-year-old US navy veteran charged with the shootings, had mistaken the Indians for immigrants from Iran, one of the seven Muslim-majority nations whose citizens were temporarily banned from entering the United States by an executive order issued by the Trump administration that was never fully implemented because of court injunctions.
Purinton, who was arraigned in a court with first-degree murder and two counts of attempted first-degree murder on Monday, had told a bartender in Missouri, where he had fled to after the shooting, he had shot two Iranians. He had told them to "get out of my country", before opening fire.
His motives were under investigation and the justice department had still not confirmed if the shootings amounted to a hate crime, which is possibly what Spicer alluded to when he said he did not want to get ahead of law enforcement.
But his remarks Monday came as the first clear condemnation of the shootings that had been blamed on his boss — "The president had blood on his hands," a prominent Indian American had told Hindustan Times.
There was no comment or reaction from the White House until Friday, when the shootings were raised at the daily briefing, and Spicer had responded only to dismiss suggestions the president's rhetoric may have been responsible.
"Any loss of life is tragic," he had said, adding, "but I'm not going to get into, like, that kind of – to suggest that there's any correlation (to the president' rhetoric) I think is a bit absurd."
It had seemed more like a clarification than a condemnation.
"Once upon a time, presidents like (Barack) Obama or (George) Bush would've spoken out against this hate crime today," Jon Favreau, Obama's speechwriter for his first term, wrote on Twitter, adding, "Trump yelled about the media and FBI."
Trump was immersed then in a fierce fight with that part of news media he doesn't like and with the FBI.
"Michelle and I were deeply saddened to learn of the shooting that tragically took so many lives in Wisconsin," Obama had said in a statement after the killing of six people at a gurdwara in Wisconsin in 2013. "As we mourn this loss which took place at a house of worship, we are reminded how much our country has been enriched by Sikhs, who are a part of our broader American family."
The White House has generally been seen as silent on the Kansas shootings.
"The President could say 'Don't shoot innocent brown people. It's wrong'," Kumail Nanjiani, a Pakistani-American comic who plays a techie in HBO TV series Silicon Valley, wrote on Twitter. "And he would save lives. But he won't. & that doesn't surprise us."
And Max Boot, a senior fellow at the Council on Foreign Relations, a think tank, suggested that the President tends to take a motivated position on such issues. "Of course President Trump has no comment. He only comments when the perpetrators are Muslims," Boot said in a post on Twitter on Saturday.
Personalise your news feed. Follow trending topics