India's G20 presidency will be inclusive, decisive, action-oriented: PM Modi
Updated on Nov 16, 2022 05:45 PM IST
India will formally begin its G20 presidency on December 1 and host the next summit in New Delhi in September 2023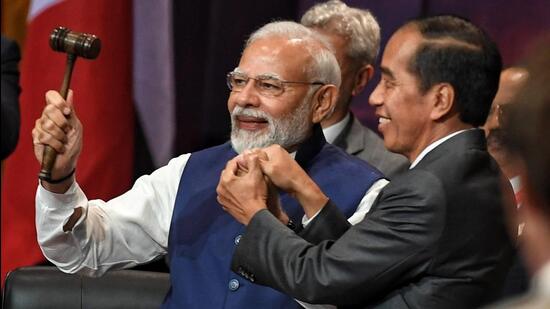 India will make the G20 a "catalyst for global change" and its presidency of the group in 2023 will be inclusive and action-oriented, Prime Minister Narendra Modi said on Wednesday amid persisting differences among the world's largest economies over Russia's invasion of Ukraine.
As the G20 presidency was handed over to India by Indonesia, Modi said the country will work for collective action on global challenges such as food and energy security. Indonesian President Joko Widodo banged a gavel and symbolically handed it over to Modi to mark the change of presidency at the closing session of the G20 Summit in Bali.
In an address at the closing session, Modi noted India is taking charge of the G20 at a "time when the world is simultaneously grappling with geopolitical tensions, economic slowdown, rising food and energy prices and the long-term ill-effects of the pandemic". He congratulated Widodo for his "efficient leadership" of the G20 in difficult times.
Speaking in Hindi, he said: "At such a time, the world is looking at the G20 with hope. Today, I want to assure that India's G20 presidency will be inclusive, ambitious, decisive and action-oriented."
"Together, we will make the G20 a catalyst for global change," he added.
In an apparent reference to global tensions and divisions triggered by the Ukraine conflict, Modi said future generations won't be able to take advantage of economic growth without peace and security. "The G20 has to convey a strong message in favour of peace and harmony. All these priorities are fully embodied in the theme of India's G-20 chairmanship – 'One Earth, One Family, One Future'," he emphasised.
India will formally begin its presidency on December 1 and host the next summit in New Delhi in September 2023. Modi said India will strive to ensure the G20 "acts as a global prime mover to envision new ideas and accelerate collective action". The benefits of development should be universal and all-inclusive, and extended to everyone with compassion and solidarity, he said.
Also Read:PM Modi's 'no war' message resonates in G-20 resolution
Highlighting the role of women in global development, he said, "We have to maintain priority on women-led development even in our G20 agenda."
Noting that the "sense of ownership over natural resources" is creating conflict, Modi said this is the main cause of the plight of the environment. A sense of trusteeship is the solution for the planet's safe future and India's LiFE or 'Lifestyle for Environment' can make a contribution in this context.
Modi said it was a "very auspicious coincidence" that India assumed the G20 presidency in "this holy island of Bali", which has an age-old relationship with India. This is also a proud occasion for Indians as the country will organise G20 meetings in different cities and states.
"Our guests will get full experience of India's amazing diversity, inclusive traditions and cultural richness. We wish that all of you will participate in this unique celebration in India, the 'Mother of Democracy'," he added.
Earlier, Modi told the summit's session on digital transformation that India's G20 presidency will focus on bridging the digital divide, especially in developing countries, and ensuring greater benefits from digital technologies.
"The principle of 'data for development' will be an integral part of the overall theme of our presidency, 'One Earth, One Family, One Future'," he said. India is making digital access public but there is a huge digital divide at the international level and citizens of most developing countries don't have "any kind of digital identity" while only 50 nations have digital payment systems, he said, speaking in Hindi.
"Can we take a pledge together that in the next 10 years, we will bring digital transformation in the life of every human being, so that no person in the world will be deprived of the benefits of digital technology," he said.
Digital issues and reforms of multilateral financial institutions are among the focus areas for India's G20 presidency.
Modi said proper use of digital technologies can be a force multiplier in the global fight against poverty, and digital solutions can aid the fight against climate change. But such benefits will be realised when digital access is inclusive.
"India's experience...has shown us that if we make digital architecture inclusive, it can bring about socio-economic transformation. Digital use can bring scale and speed. Transparency can be brought in governance," he said, noting India has developed digital public goods whose "basic architecture has in-built democratic principles".
These solutions are based on open source, open APIs and open standards that are interoperable and public. Citing the example of India's Unified Payment Interface (UPI), he said more than 40% of global real-time payment transactions last year were done through UPI. India ensured financial inclusion by opening 460 million new bank accounts using digital identity and the open source CoWIN platform ensured the success of the largest vaccination campaign, he said.