Iraq declares victory in Mosul, but no word on 39 Indian hostages
Updated on Jul 10, 2017 12:16 AM IST
Iraqi Prime Minister Haider al-Abadi arrived in Mosul on Sunday and congratulated the armed forces for their "victory" over Islamic State, bringing an end to jihadist rule in the city.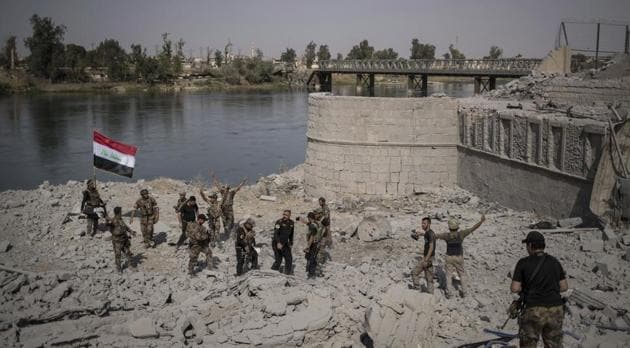 Hindustan Times, New Delhi/Chandigarh |
HT Correspondents
After a battle that lasted nearly nine months and caused the displacement of an estimated 920,000 people, the Iraqi government announced on Sunday that its army had retaken the city of Mosul from the Islamic State (IS).
The fall of Mosul brings hope and trepidation to the families of 39 Indian construction workers who were taken prisoner in the city in 2014. The relatives of the abductees are asking the Indian government to secure their return.
One of the Indians who was captured, Harjit Masih, managed to escape. During a press conference in May 2015, Masih said that, a few days after their capture, the workers were all lined up and shot. According to Masih, he feigned death, fled, and returned to India, where he was held in custody for months. The rest of the workers, he said, were almost certainly killed during the shooting.
The government has not accepted Masih's account. "The information we have so far is that they are alive, because we have no other information to prove that they are not alive," said Gopal Baglay, an external affairs spokesman, on June 16.
The external affairs ministry did not issue a formal statement on Sunday. One official privy to the developments spoke to HT on the condition of anonymity. "The government has been doing everything possible to bring them back," the official said. "We never abandoned hope. I cannot tell more about this due to the sensitivities involved."
According to two different officials with knowledge of the situation, one of the government's sources in Mosul reported last month that some Indian workers were hiding in a church in the city.
India has sought the help of countries in the region. During a meeting in New York on September 29, 2015, Prime Minister Narendra Modi urged the president of Palestine, Mahmoud Abbas, to pass on information he receives about the captive workers. Abbas told Modi that the prisoners were still alive.
External affairs minister Sushma Swaraj has met the relatives of the abducted men on 12 different occasions. The last such meeting was held in early June.
Most of the workers hail from Punjab. HT spoke with some of their family members on Sunday.
"The last time we met the minister, we were told that the Indian government knew the location of all 39 people," said Gurpinder Kaur, whose brother, Manjinder Singh, is among those missing. "They even said that once the area is freed from ISIS, the government will be able to establish contact with them."
Other family members shared Kaur's cautious optimism. Harbhajan Kaur (no relation) is hoping for the return of her son, Harsimranjit Singh. She said that Swaraj had assured her that "all the boys were safe". "This has brought a big sigh of relief to the family," said Kaur. "The government must respond immediately."
Personalise your news feed. Follow trending topics