'No substantial' info on whether 39 Indians abducted in Mosul are alive: Iraq
Jul 24, 2017 07:47 PM IST
Iraqi foreign minister Ibrahim al-Jaafari has said his government has "no substantial information" on the 39 Indians kidnapped by the Islamic State in Mosul in June 2014.
The Iraqi government has "no substantial information" on the fate of the 39 Indians taken hostage by the Islamic State terror group in Mosul in 2014, foreign minister Ibrahim al-Jaafari said on Monday.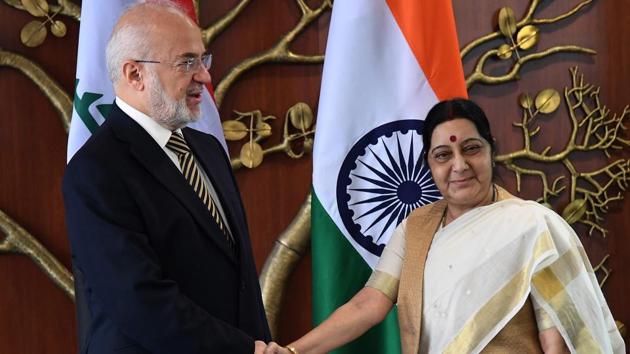 "We have no substantial evidence that they (the Indians) were killed or they are still alive, so we cannot give anything in that regard," al-Jaafari, who is an official visit to India, told reporters here.
The Iraqi government, he said while speaking through an interpreter, was as concerned about the fate of the 39 Indians as the Indian government and their families.
Al-Jaafari said acknowledged he had discussed the issue of the kidnapped Indians with his Indian counterpart Sushma Swaraj and pledged the Iraq government will continue its efforts to trace the men, all construction workers, who were kidnapped by militants more than three years ago.
He described as "inaccurate" the Indian government's statement that the Indians were possibly being held in Badush prison, located a short distance from the former Islamic State stronghold of Mosul.
"We will continue to follow-up on this subject as if they were alive, this is what we must believe," he said, adding that the IS is known to circulate information that is "untrue".
"In such an atmosphere, we are unable to give a certain date by when this issue is going to be resolved. The Iraqi security forces are very ardent (about) finding all of those who were taken by Daesh, whether they are Iraqis, Indians or other nationalities. They are very serious and keen to preserve their lives," al-Jaafari said.
With Swaraj set to make a statement on the matter in Parliament on Tuesday, officials at the external affairs ministry were tight-lipped about what transpired at the minister's meeting with al-Jaafari.
Ahead of al-Jaafari's arrival in New Delhi, the Iraqi embassy had said "search operations are on and there is high-level coordination between Iraqi and Indian authorities to locate" the Indians.
On July 16, Swaraj had told reporters that information gathered by minister of state VK Singh during a recent visit to Iraq suggested the 39 Indians were possibly being held in Badush prison. She said she was hopeful of getting more information when al-Jaafari visited New Delhi.
However, the Hindustan Times reported on Saturday that Badush prison is a desolate and abandoned structure that has been unoccupied for weeks, if not months.
Harjit Masih, the sole Indian who managed to escape from the group of 40 men kidnapped in Mosul, has told several media outlets the others were gunned down in the desert near Badush on June 15, 2014. His account has been rejected by the government.