ISRO conducts first escape test for India's manned mision to space
The crew escape system is an emergency escape measure designed to quickly pull the crew module along with the astronauts to a safe distance from the launch vehicle in the event of a launch abort.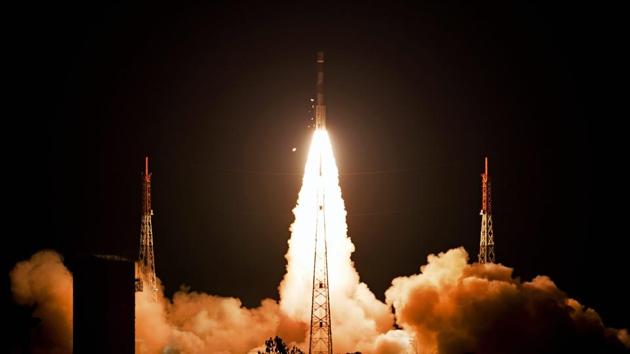 Updated on Jul 05, 2018 10:46 PM IST
On Thursday morning, Isro took the first, small but significant step towards realising human space flight by successfully conducting a test of the Crew Escape System that provides an escape mechanism for astronauts if the launch operation is aborted.
"This is one of the critical technologies for a future human space programme," said K. Sivan, chairman of Isro.
"When you are flying with the humans, if there is something wrong during the launch, this will help them escape to a safe place."
Only three countries -- USA, Russia and China -- have human space flight programmes.
The only Indian citizen to ever travel to space was fighter pilot Rakesh Sharma who flew aboard Soyuz T-11, a spacecraft of the former USSR in 1984.
India does not have a human space flight programme.
"Isro always does research and development activity and develops technologies keeping future needs in mind," said Sivan.
The space agency is preparing a report, likely to be completed in two months, to submit to the government for approval for the programme.
"Critical technology developments and demonstration for indigenous human space flight capability is in progress," Sivan told Hindustan Times in an interview in June. "The crew module systems, space suit, recovery systems, crew escape systems and elements of environmental control and life support systems are already developed."
The agency has already designed a phased programme in place to execute such a mission.
"Once the government approval comes, we will be ready to demonstrate and execute human space flight within a short time frame," Sivan said.
The next step for Isro will be to test the system for evacuating astronauts safely should an emergency arise during flight.
Analysts say it could take less than 10 years for the agency to take a human to space once the programme is approved.
"If we get the mandate, it should take six to seven years for the first man to be launched in a manned space mission," Ratan Shrivastava, a space sector expert and advisor with FICCI, said. "Even earlier if there is cooperation from a friendly country. It will put India into a different league altogether," Shrivastava added.
Isro's next satellite launch of GSAT 29, a communication satellite, is tentatively scheduled for the end of August.
Close Story