Jobs, not family ties, key to US immigration
The second part of the proposal would be about the wall along the border with Mexico. The plan is expected to include a levy on border trade to fund the wall.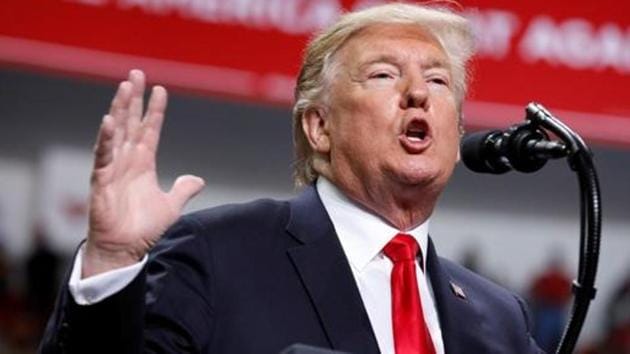 Updated on May 16, 2019 11:29 PM IST
Hindustan Times, Washington |
Yashwant Raj
US president Donald Trump was set to unveil later on Thursday a sweeping proposal to shift the country's legal immigration system from one that is largely determined by family links to a points-based system that favours merit, professional skills and education, including proficiency in English.
The second part of the proposal would be about the wall along the border with Mexico. The plan is expected to include a levy on border trade to fund the wall.
The shift from family to merit will be both good and bad news for Indians hoping to live in the US and seek citizenship. Both systems are very popular with them — there were 282,207 people from India waiting for family-sponsored Green Cards till 2018, in third place behind Mexico and the Philippines; and there were 34,272 in the employment-based queue, second after China, according to US state department data.
The new proposal is expected to feed directly into Trump's 2020 re-election bid, but there is a long way for the proposal to go before it becomes law. Immigration is one of the most divisive and disputed issues in the country and US congress has not passed a reforms legislation in three decades. Both of Trump's predecessors, George W Bush and Barack Obama, tried but failed.
Trump's plan has been put together by his son-in-law and senior adviser Jared Kushner, who made a closed-door presentation to Republicans on Capitol Hill earlier this week, but they were not impressed, reported Politico. Among other things, there was concern that the plan contained no provision for citizenship for undocumented immigrants brought to the country as children.
The proposals chiefly address legal immigration. The United States grants more than one million Green Cards (permanent residency) every year. Only 140,000 of them are currently linked to employment, most of the rest are based on family ties. The plan proposes to reverse that to make it mostly "merit-based", through a points-system the president has talked about often, pointing to the Canadian and Australian programmes that favour skills, employment, ability to create jobs, education, and ability to read and write in English.
Applicants will also have to take a civics test on American history. "We want to change the composition of who is coming through," a senior administration official told reporters, previewing the plan.
The president's proposal is also expected to introduce three high-skill categories for people with extraordinary talent. An exceptional college student, for instance, would seek citizenship even before finishing the course with backing of their educational institutions.
The president's plan also seeks to do away with the diversity visa, which are granted to nationals of countries with low rates of immigration to the United States, and limit the number of refugees granted Green Cards every year to 50,000, down from 70,000.
Cornell University Law School professor Stephen Yale-Loehr, an immigration expert, was quoted by AFP as saying that Trump's proposal "has some ideas worth considering". But, he added, is so incomplete in addressing the broader complications in the system that Congress will not take it seriously.
Topics
Close Story