Jaitley snubs Subramanian Swamy, backs his top economic aide
Jun 22, 2016 09:11 PM IST
Finance Minister Arun Jaitley on Wednesday said the government has full confidence in chief economic adviser Arvind Subramanian after BJP leader Subramanian Swamy demanded that Subramanian be sacked.
The government on Wednesday expressed "full confidence" in chief economic adviser Arvind Subramanian, in an apparent snub to BJP MP Subramanian Swamy whose recent criticisms of top policymakers have led many to question the acceptable limits of public discourse in India.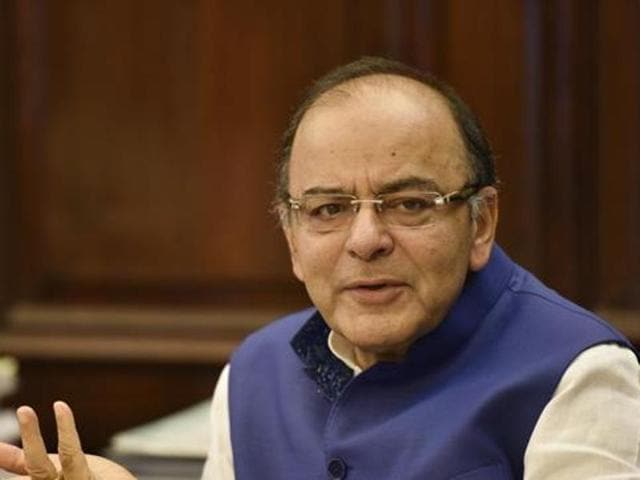 Finance minister Arun Jaitley came to his top adviser's defence after Swamy accused him of encouraging the opposition Congress to "become rigid" on the proposed Goods and Services Tax (GST), and acting against India's interest during his time in the United States.
Swamy's earlier diatribe had been directed at central bank governor Raghuram Rajan, and many saw that criticism as contributing to his decision not to seek a second term after September.
Jaitley's comments on Wednesday were the strongest yet against Swamy that not only backed the two top policymakers but also asked politicians to desist from personal attacks targeting officials.
"The government has full confidence in the chief economic adviser Arvind Subramanian and his advice to the government from time to time has been of great value," Jaitley said at a press conference in New Delhi.
"I would also add one more fact from the point of view of discipline of Indian politicians. To what extent should we attack those the discipline and constraints of whose offices prevent them from responding? And this has happened more than once."
Swamy had accused Rajan of wrecking the economy, alleging he was "mentally not fully Indian" since he held a US green card. Both Rajan and Subramanian have worked at the International Monetary Fund. While Rajan was appointed by the previous UPA government, Subramanian was brought in by the NDA government in October 2014.
Jaitley rejected suggestions that the government had not spoken out for Rajan when Swamy had targeted him, asserting that he as well as BJP president Amit Shah had spoken on the matter.
On Wednesday, Swamy looked isolated as the BJP also chose to distance itself from his remarks.
"The party does not agree with his views. This is completely his personal opinion," BJP national secretary Shrikant Sharma said.
In a series of tweets Wednesday morning, Swamy unleashed a tirade against the chief economic adviser whose name is among the several doing the rounds to succeed Rajan as RBI governor.
"Who said to US Cong on 13/3/13 the US should act against India to defend US Pharmaceuticals interests? Arvind Subramanian MoF !! Sack him!!!," tweeted the BJP MP.
"Modi's chief economic adviser Arvind Subramanian had opposed India on IPR till recently," he said in another tweet referring to reports about Subramanian, when he was a senior fellow at the Peterson Institute for International Economics, urging the US to take action against India at the World Trade Organisation over patents.
The Rajya Sabha member from the BJP accused Subramanian, who succeeded Rajan as the CEA, of encouraging the opposition Congress to harden stand on the Constitution (Amendment) Bill that would enable the rollout of the GST.
"Guess who encouraged Congi to become rigid on GST clauses? Jaitley's economic adviser Arvind Subramanian of Washington DC," Swamy tweeted, saying he is "helping Jaitely to recognise the enemies in our camp".
"Now PTs (Patriotic Tweeples) can understand why our core economic sectors could not perform last two years. Trojan horses galore in MoF/Fin Institutions," said Swamy.
"Was AS (Arvind Subramanian) deposing before US Cong Committee against India as a US citizen or Indian? Does any PT know?" he tweeted.
Finance ministry officials dismissed Swamy's allegations against Subramanian, saying that the ministry knew about his "views and credentials" before his appointment. "People should read his papers on IPR and pharma before commenting on his views. They are actually in favour of India," said a finance ministry official.
The ruling party MP's attack on the chief economic adviser gave an opportunity to the opposition Congress to take a swipe at the government.
"Subramanian Swamy now guns for Arvind Subramanian Economic Advisor to NDA. Target is Arun Jaitley not Arvind Subramanian," senior Congress leader Digvijaya Singh tweeted.
"Is Modi handing over Finance Ministry to Subramanian Swamy?"
Read: Real target Arun Jaitley, not Arvind Subramanian: Digvijaya Singh