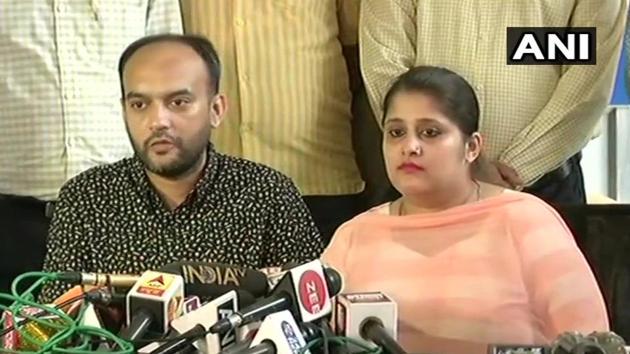 Lucknow passport officer who 'humiliated' Hindu-Muslim couple transferred
Anas Siddique and Tanvi Seth reach out to external affairs minister Sushma Swaraj after the officer at Lucknow passport office allegedly humiliated them.
UPDATED ON JUN 21, 2018 08:30 PM IST
An officer in the regional passport office in Uttar Pradesh's Lucknow was transferred on Thursday after he allegedly humiliated an inter-faith couple, asking the woman to change her last name and the man to convert to Hinduism, charges denied by him.
"The couple have been handed over their passports. A show cause notice has been issued to the officer Vikas Mishra who was accused of misbehaving with the couple. We have transferred him to Gorakhpur and initiated a probe into the matter," regional passport officer Piyush Verma said.
"Mishra has been intimated about the decision," he added.
Officials at the passport office invited Tanvi Seth and Anas Siddique and issued passports to them.
"We hope it doesn't happen to anyone else. In the 11 years of our marriage, we never faced such a situation. The officials have apologised and we got our passports," Seth said after receiving her passport.
Seth and Siddique alleged on Wednesday that Mishra misbehaved with them when they went to the passport office for the mandatory personal interview to get the travel document. Seth alleged Mishra not only declined to clear her application but also refused to renew her husband's passport.
Mishra, however, refuted their allegations of misbehaviour.
"Tanvi Seth presented her marriage certificate where her name was registered at Shazia Anas. I only asked her to endorse her name (after marriage) in the form. Why is she hiding her name?" Mishra told reporters on Thursday.
The external affairs ministry has also sought a report on the allegations of harassment of the couple. The action against Mishra was taken after Seth tagged external affairs minister Sushma Swaraj on Twitter, seeking her intervention in the matter.
"@SushmaSwaraj Ma'am I never ever imagined that in a place like passport office we would have a people who are moral policing the citizens. He dint just put my passport on hold he even put my husband's @5220manas passport on hold. This is clear grudge. I was shocked at this behaviour," Seth said in a series of tweets to Swaraj.
"I have never felt so insulted in the last 12 years of my marriage with my husband. It is my personal choice to choose a name I want to after marriage. This is our family matter and last thing I expected to hear at the passport office was it is your duty to change your name after marriage," she added.
Several seniors officials of the external affairs ministry and well as Lucknow's regional passport officer Mishra assured Seth of "appropriate action" on Twitter.
Close