Justice Kurian Joseph retires from Supreme Court after five-and-a-half-year tenure
Nov 30, 2018 12:10 AM IST
Justice Kurian Joseph, third seniormost judge of the Supreme Court, who was one of the four senior judges to have conducted an unprecedented January 12 presser mounting a virtual revolt against the then Chief Justice of India Dipak Misra, retired from the top court on Thursday.
Justice Kurian Joseph, 'the judge with a pleasant smile' and one of the four judges who took part in the unprecedented press conference against former Chief Justice of India Dipak Misra earlier this year, retired on Thursday as a judge of the Supreme Court.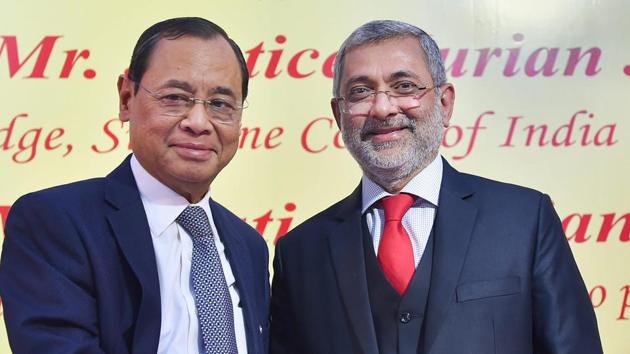 Known for speaking out his mind on contentious issues, Justice Kurian at a farewell function organized by the Supreme Court Bar Association exhorted lawyers to speak out, saying, "Silence of the law is more damage to the society than the violence of lawless men."
Justice Kurian called for compassion among judges and said, "The institution must deal with issues coming to the court with compassion. When judges approach a matter on a compassionate appointment, they need to have compassion."
Justice Joseph started legal practice before the Kerala high court in 1979.
At the age of 42, he went on to become the youngest advocate in Kerala to be designated as a senior advocate.
After an illustrious career as an advocate, he was appointed as a judge of the Kerala high court in the year 2000. He served at the Kerala high court and Himachal Pradesh high court as its chief justice before being elevated to the Supreme Court in 2013.
In the last five years at the top court, Justice Joseph has been part of the benches that delivered landmark verdicts in the Triple Talaq case, National Judicial Accountability Commission, and the Nagaraj review (the SC/ST Judgement).
Bidding farewell to Justice Kurian, the Chief Justice of India, Ranjan Gogoi said, "Good judges are going away and we need replacements."
Attorney General for India, KK Venugopal, called him as "one of the nicest judges he has seen in the Supreme Court since the 1960s and he has been a judge with a pleasant smile."
"He ranks the top ten Supreme Court judges who have written more than 1000 verdicts during their judgeship," added Venugopal.
Earlier in the day, testifying to his compassion and pleasant nature, members of the bar including the Supreme Court bar president, Vikas Singh said, "We will always miss your smile."
In a judgment delivered just a day ahead of his retirement on Wednesday, Justice Kurian reignited the debate on capital punishment. He wrote, "Capital punishment has failed to achieve any constitutionally valid penological goals, we are of the view that a time has come where we view the need for death penalty as a punishment, especially its purpose and practice."
In the same judgment Justice Kurian also expressed his reservations on media trial in criminal cases. He said "We may also express concern on the legality and propriety of the people engaging in a "trial" prior to the process of trial by the court. It has almost become a trend for the investigating agency to present their version and create a cloud in the collective conscience of the society."