The petitioner, Aabhijeet Sharma in his defamation suit claimed that Gogoi's autobiography, 'Justice for the Judge' has offensive content in context of National Register of Citizens updating exercise

Updated on May 11, 2023 04:53 PM IST
By
Biswa Kalyan Purkayastha
The names were confirmed by different members of the PU syndicate who attended the online meeting on Tuesday

Updated on May 03, 2023 02:09 AM IST
A controversy had erupted after justice Gogoi presided over a three-judge bench on April 20, 2019 after the accusations of sexual harassment surfaced against him.


Published on Dec 09, 2021 01:37 AM IST
The former CJI's book contains 14 chapters setting down various known and unknown details about his childhood, his journey to judgeship, and the spate of controversies that he got embroiled in during his 13-month tenure as the head of judiciary between October 2018 and November 2019.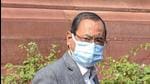 Published on Dec 09, 2021 12:25 AM IST
Responding to a request in this regard by activist Saket Gokhale, the top law officer said that the former CJI's statements were indeed "very strong" but added that they were made "for the good of the institution" and in no manner scandalised or lowered the authority of the highest judiciary.


Published on Feb 28, 2021 12:51 AM IST