A controversy had erupted after justice Gogoi presided over a three-judge bench on April 20, 2019 after the accusations of sexual harassment surfaced against him.

The former CJI's book contains 14 chapters setting down various known and unknown details about his childhood, his journey to judgeship, and the spate of controversies that he got embroiled in during his 13-month tenure as the head of judiciary between October 2018 and November 2019.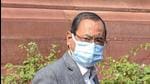 Responding to a request in this regard by activist Saket Gokhale, the top law officer said that the former CJI's statements were indeed "very strong" but added that they were made "for the good of the institution" and in no manner scandalised or lowered the authority of the highest judiciary.

Utsav Bains has to his credit a documentary on child rights and in 2012, he had filed a plea for probe into sexual exploitation of children at a shelter in Rohtak, Haryana.