'Karmapa to return to India in November' says Tibetan PM-in-exile Lobsang Sangay
He is scheduled to visit the country for heads of religious sects meeting in Dharamshala, slated to be held in last week of November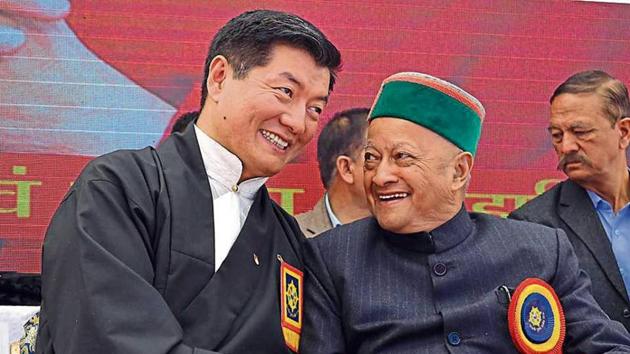 Updated on Oct 16, 2018 10:53 AM IST
Clearing the air on return of the 17th Karmapa, Tibetan Prime Minister-in-exile Lobsang Sangay on Monday said Tibetan spiritual leader Ogyen Trinley Dorje will return to the country in November after his extended stay in the United States.
"Karmapa will absolutely come back to India and the Centre has put no restriction on his movement. He is scheduled to visit the country for heads of religious sects meeting in Dharamshala, slated to be held in last week of November," Sangay said on the sidelines of 'Thank You Himachal' event hosted by the Tibetan government-in-exile here on Monday.
On Ogyen's recent meeting with Thaye Dorje, another claimant to the title of Karmapa, Lobsang said, "It's a welcome step. The outcome of the meeting has been positive."
The meeting between the two in France was aimed at resolving the decade-old rift in Karma Kagyu lineage. Thaye Dorje and Ogyen later issued a joint statement in which they said the meeting was aimed at knowing each other. They added that they wished to work to "heal" the divisions in Kagyu Karma school of Tibetan Buddhism.
Majority of Tibeta recognises Ogyen Trinley Dorje as head of Kagyu school, but there is a section of Tibetan Buddhist who consider Thaye Dorje as real claimant to the title.
Who is Ogyen Trinley Dorje?
Ogyen made a dramatic escape from Tsurphu, a monastery in China-occupied Tibetan Autonomous Region, in 1999 and reached Dhramshala in January 2000 where he met the Dalai Lama. Since then, he lived under watchful eyes of Indian agencies at Gyuto Tantric Monastery at Sidhbarhi village, 6km from Dharamshala.
Karmapa is the parallel head of Kagyu Karma school of Tibetan Buddhism.
Karmpa visited US last year for a short trip. However, went on to extend his stay citing health reasons, which raised suspicion amongst the Indian government about his future course.
The Centre repeatedly urged him to return to his abode in Dhramshala. Karmapa was reportedly unhappy over restrictions imposed on his movement and was seeking land for building a monastery in New Delhi.
Close Story
Personalise your news feed. Follow trending topics