Karnataka and Tamil Nadu look abroad to meet sand demand
Hindustan Times, Chennai/Bengaluru |
M Manikandan & Vikram Gopal
Jul 14, 2018 11:15 AM IST
Of the 50 million tonnes (mt) of annual sand demand in Karnataka, 7 mt is met by legally extracted river sand, 25 mt by M-Sand and the rest by illegal sales of river sand, an official said.
After importing everything from crude oil to electronics, India is now buying sand from overseas.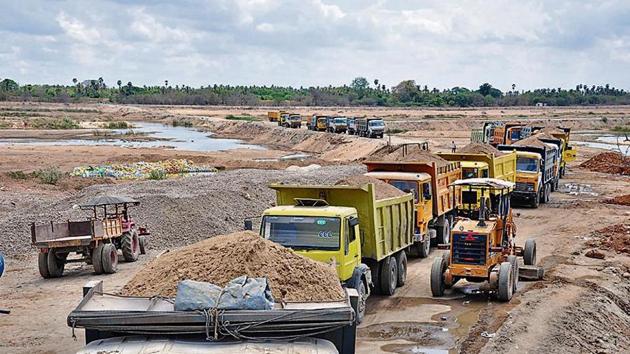 To tackle a domestic supply shortfall, Karnataka has taken the lead by beginning to sell river sand imported from Malaysia, and Tamil Nadu will soon follow suit, according to government officials in the two states.
Legally extracted river sand accounts for about 7 million tonnes(mt) of the 50 mt annual demand in Karnataka. Manufactured sand, or M-Sand, accounts for about 25 mt, and the rest of the demand is met by illegal sales of river sand, an official of the state's department of mines and geology said.
Sand obtained by dredging riverbeds — a product of natural weathering of rocks — is used in the production of concrete, cement and mortar and is a key raw material in the construction industry. It is thought to be far superior to manufactured sand.
Tamil Nadu, too, faces a shortfall. Builders say existing depots supply only about 2,500 lorryloads (37,500 mt) of sand daily, while the state needs around 35,000 lorry-loads every day.
"A ten-wheeler lorry can carry 15 tonnes of sand and six-wheeler lorry can carry 10 tonnes of sand," said S Yuvaraj, president of the Tamil Nadu Sand Lorry Owners' Federation. He also claimed that about ₹10,000 crore worth of projects have been stuck in Tamil Nadu alone because of lack of sufficient sand, resulting in the loss of about 150,000 jobs in the construction industry.
In the case of both states, the decision to import sand was also underpinned by alarm over the over-exploitation of riverbeds — a matter that in Tamil Nadu reached the high court, which ordered the government to shut down illegal extraction units.
Karnataka's Fix
In August 2017, the Karnataka government decided to import river sand from Malaysia and seven firms, including the state-owned Mysore Sales International Ltd (MSIL), won contracts for import and sales. One firm, Blue Max International Pvt Ltd, has also been allowed to import river sand from the Philippines but the shipments are yet to arrive, a government official said.
So far, MSIL has received 40,000 tonnes of river sand in three shipments at the Krishnapattnam port in Andhra Pradesh, its managing director GC Prakash said. "We will eventually scale this up to about 3.6 mt based on demand," he said.
At ₹4,000 a tonne, MSIL's imported product is cheaper than the market rate of ₹6,000, Prakash said. "The cost of the imported sand is about ₹2,400 per tonne, including shipping, packaging and transport to the state from the port. We have started sales in Bengaluru, and will begin sales elsewhere in the state soon."
Tamil Nadu's Dilemma
Following the closure of illegal extraction units in the state, legal units are operational only in Thiruvallur, Cuddalore, Nagapattinam, Trichy and Karur districts of Tamil Nadu.
A top public works department (PWD) official in Tamil Nadu said the import proposal will be finalised soon. "Three contractors from New Delhi, Hyderabad and Chennai submitted bids in April to procure the sand," he said, adding that the tender will be finalised before July-end. "...contractors will provide 500,000 to 600,000 tonnes every month," the official said on condition of anonymity.
The official said ₹548 crore had been fixed as the tender cost for procuring the sand for the first six months. "Once the contractors procure the sand from PWD, it will be sold online to traders at the government fixed price of ₹1,600 per load."
Ramachandran Venkatraman, past president of the Builders Association of India, said Tamil Nadu's decision to import sand would help address the vast deficit in supply. "Our industry is facing a major challenge because of the shortage, which has resulted in about 150,000 people losing their jobs. Construction has slowed and projects worth ₹10,000 crore are stalled. We urge the government to import as early as possible," he said.
Drawbacks of M-Sand
The Tamil Nadu government is determined to eventually shift completely to M-Sand, but builders are not enthused, citing concerns over quality.
"A load of M-Sand is being sold at ₹18,000. In contrast, the market price of a load of river sand is ₹30,000. Despite this price variation, builders are reluctant because they are worried about quality. We have communicated our concerns to deputy chief minister O Paneerselvam in person, but no action has been taken yet," said Yuvaraj, president of the federation. He said about 310 M-Sand manufacturing quarries were operational in the state, despite only 24 having been approved by the government.
"The M-Sand manufactured by unapproved quarries is of poor quality. Currently, 12,000 loads of M-Sand are being transported every day in the state.
"M-Sand produced in Kanyakumari, Thiruvallur and Krishnagiri districts are also being exported to neighbouring Kerala, Andhra Pradesh and Karnataka. The government should regulate this," Yuvaraj added.
These concerns find an echo in Karnataka. Srinivasan Desikachari, former CEO of industry body Confederation of Real Estate Developers' Associations of India and a private builder, said river sand was preferred despite M-Sand costing a fraction of the former's price – a tonne costs around ₹1,500 – because the latter contains mica and other minerals, which might result in unstable concrete. "It is because of the presence of these minerals that river sand is preferred. Even if there is clay in river sand, it can be washed away," he said.
Environmental Woes
Environmentalists in Tamil Nadu, too, have raised concerns over M-Sand, alleging that it results in the destruction of hills in the state.
"Rivers in Tamil Nadu have been exploited badly for sand. Now contractors contemplate wreaking havoc across our hills. This will lead to ecological imbalance," said G Sundarrajan, a member of Poovulagin Nanbargal, an environmental organisation in the state.
Added to this, Sundarrajan said, was the fact that there were over 300 unapproved sand manufacturing quarries operating in Thiruvannamalai, Erode and Namakkal . "The government should focus on import and can perhaps avail the services of research institutes like Indian Institutes of Science to identify new construction techniques that don't require sand," he said.