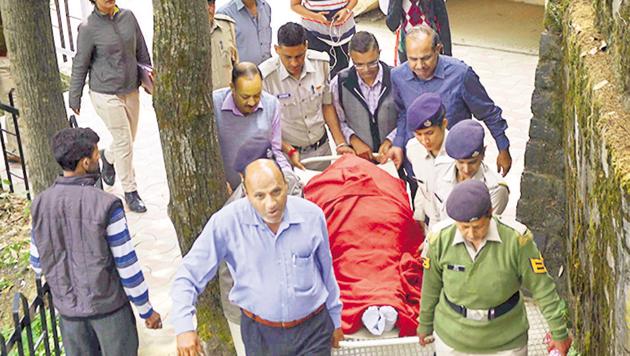 Kasauli shooting: 'Shocked' colleagues describe accused Vijay Singh as quiet and unassuming
Police are investigating how the accused acquired the licensed 3.2-bore pistol with which he shot the victim – Shail Bala Sharma – and another PWD worker during a demolition drive on Tuesday.
UPDATED ON MAY 02, 2018 07:32 PM IST
The spotlight of notoriety has suddenly swung on hotel owner Vijay Singh, an otherwise unassuming person, after he shot an assistant town planner dead during a demolition drive in Kasauli on Tuesday.
Many of 54-year-old Singh's colleagues at the Himachal Pradesh State Electricity Board (HPSEB), where he worked as an additional private secretary, could not even imagine him committing such a crime. "Vijay's conduct was very professional. There may have been some complaints against him, but nobody ever approached me with one," said director (civil) PK Kohli, Singh's superior at work.
Saroj, a senior private secretary at the office, seemed equally astounded. "I was shocked to hear the news reports about Vijay, who wouldn't even raise his voice before a peon," she said. "He was with us for over three decades, but we never heard him bragging about anything. Vijay always maintained a humble demeanour."
Singh was appointed as an additional private secretary in 2013, over 25 years after he joined the HPSEB in 1985.
However, there were times when Singh – hailing from Mandoh Markanda village in Kasauli – spoke of quarrels with another hotel owner. The disagreements were reportedly about a strip of government land in the neighbourhood that both the hoteliers would use as parking space.
Singh's mother told ANI that he had been tense about something lately. "He seemed disturbed for many days now. I neither saw nor know who killed her, but what happened was sad indeed. The woman official was only doing her job," she said.
Meanwhile, police have launched a massive manhunt for Singh. Director general of police Sita Ram Mardi has announced a reward of Rs 1 lakh for anybody providing information leading to his capture, and police teams have been deployed in the Shimla, Solan and Sirmaur districts. Law-enforcement agencies in neighbouring states have also been alerted.
Police are also investigating how Singh acquired the firearm with which he shot the victim – Shail Bala Sharma – and another PWD worker. "It was a licensed 3.2-bore pistol. We are probing how he got a licence for the pistol, and from where it was purchased," said superintendent of police (Solan) Mohit Chawla.
A probe has also been launched against the police personnel who accompanied Shail Bala Sharma and her team during the demolition drive.
Sharma and her team had launched the demolition drive on Tuesday in keeping with an April 17 directive of the Supreme Court that hotel owners in Kasauli pull down unauthorised structures on their premises within 15 days.
They were also asked to pay a fine of up to Rs 15 lakh each.
Noting that some hoteliers had constructed six-storey buildings after acquiring permission for just two-storied ones, a bench of justices Madan B Lokur and Deepak Gupta said: "You just demolish it (unauthorised constructions). What is going on? You are admitting that you were supposed to make only two-storied buildings. There was a landslide on your premises and you did nothing. You are putting the lives of people in danger (just for money)."
Close