Civilian killed in another targeted attack in Kashmir
Updated on Aug 17, 2022 12:23 AM IST
Sunil Kumar Bhat , 48, a fruit farmer, was shot dead and his relative Pitambar Nath Bhat was injured in the attack, police said.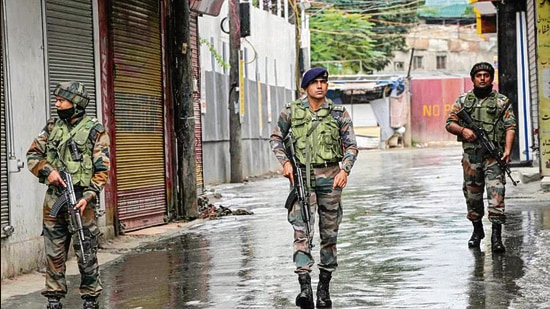 Terrorists on Tuesday killed a Kashmiri Pandit in Shopian, Jammu & Kashmir, the fourth member of the region's minority community and the seventh civilian to have been shot since May 1 in targeted killings aimed at civilians, including migrant workers.
Sunil Kumar Bhat , 48, a fruit farmer, was shot dead and his relative Pitambar Nath Bhat was injured in the attack, police said. According to a J&K police spokesperson, they were attacked in their apple orchard in Chotipora village of Shopian. Security forces were rushed to the spot after news of the attack, said the spokesperson.
A statement by the J&K police said: "Preliminary investigation revealed that terrorists had fired upon two civilians in an apple orchard at Chotipora area of Shopian District. In this terror crime incident, two civilians, identified as Pitambar Nath Bhat, son of Arjun Nath Bhat, and Sunil Kumar Bhat, son of Sri Ji Bhat, both residents of Chotigam Shopian, belonging to minority community, received critical gunshot injuries. Both the injured were immediately shifted to hospital where one of the injured persons, Sunil Kumar Bhat, succumbed to his injuries, however, the condition of other injured person is stated to be stable."
Jammu & Kashmir lieutenant governor, Manoj Sinha, said the terrorists responsible for the killing will not be spared. "Pained beyond words on despicable terror attack on civilians in Shopian. My thoughts are with the family of Sunil Kumar. Praying for speedy recovery of injured. The attack deserves strongest condemnation from everyone," he tweeted.
Terror outfit Kashmir Freedom Fighters, has taken credit for the attack, according to a statement issued by the group which is widely seen as a front for the Pakistan-based Lashkar-e-Taiba.
However, additional ADGP Vijay Kumar said that eyewitness had identified one of the attackers as categorised Al-Badr terrorist Adil Wani of Kutpora, Shopian, and the second as an overground worker.
"We are working on it and both will be either arrested or neutralised in encounter soon," he said.
The attack and news of Bhat's killing generated outrage in Chotipora village. He and Pitambar belong to one of the two Pandit families in the village. Confronting divisional commisioner Pandurang K Pole, the victim's relatives said their requests to be relocated were ignored.
"We came to your office before... with requests to take us out of the place. But you said 'mein khana de sakta hoon, jana nahi (I can give you food, but can't help you relocate)," shouted a relative.
Pole refuted the allegations while speaking to reporters. "That is not the case. Militancy has been here for the past 30 years, run and supported by Pakistan. Definitely, it won't finish instantly. We will have to face it for sometime. Security forces have been giving lives to finish this," he said.
In 2021, a man from the other Pandit family in the village, Bal Krishnan, was attacked by unidentified assailants. He suffered injuries to his hand and leg in the attack.
Tuesday's killing triggered protests by Kashmiri pandits in Budgam district.
"The government is failing. Minorities are being targeted in broad daylight. These two brothers (in Shopian) were living here for past 30 years and had not migrated. What has government done when the killings have continued both in city and villages? Only on paper they are claiming that we have given them safe places. We are not even feeling safe in our homes now. These two brothers had just left their homes when they were attacked, " said one of the protestors.
"We want a permanent solution. Either they should tell us that we can't safeguard you, we will leave. Or they should kill us all," he said.
In May, Kashmiri Pandits had taken to the streets after government employee Rahul Bhat, who was posted in Budgam's Chadoora, was shot dead by terrorists.
The protests intensified after 26-year-old Rajni Bala, a school teacher from Jammu, was shot dead in her campus at Gopalpora in Kulgam district later that month.
The following month, Vijay Kumar, a bank manager, was shot dead outside his office by terrorists in Kulgam district.
Reacting to Tuesday's attack, the Kashmiri Pandit Sangharsh Samiti (KPSS), a body of Pandits living in the Valley, called it "another bloody day".
"Another bloody day in Kashmir. One Sunil Bhat, non migrant Kashmiri pandit, shot dead by the terrorists at Chotigam Shopiyan today," the outfit tweeted.
According to KPSS, around 800 Pandit families reside in the Valley after the large-scale exodus of the community in the early 1990s in the face of rising militancy.
Former chief ministers Mehbooba Mufti and Omar Abdullah also condemned Tuesday's attack.
"Terribly sorry to hear about the targeted killing in Shopian. Condolences to the deceased's family. GOI [government of India] continues to behave like an ostrich with its head buried deep under the sand. Every resident of J&K has become cannon fodder in Delhi's quest for 'manufactured normalcy'," she tweeted.
"...I condemn the militant attack in Shopian unequivocally in which Sunil Kumar was killed & Pinto Kumar injured. My condolences to the family," tweeted Abdullah.
Also Read | 'Pained beyond words': Leaders condemn killing of a Kashmiri Pandit in Shopian
People's Conference president Sajjad Lone said: "Yet another dastardly attack by coward terrorists in Shopian. We strongly condemn this heinous act of violence. My condolences to the family."
The J&K spokesperson of the Bharatiya Janata Party (BJP), Altaf Thakur said : "Strongly condemn the dastardly act of terror... Terror has no religion. Killers should be punished."
On Monday, a civilian, Karan Kumar Singh was injured in a grenade attack in Gopalpora Chadoora area of Budgam district.
Also Read | 'Another example of…': Owaisi on killing of Kashmiri Pandit in Shopian
"#Terrorists hurled grenade in Gopalpora Chadoora area of #Budgam in which one civilian namely Karan Kumar Singh got injured. He has been shifted to Srinagar hospital for treatment where his condition is stated to be stable. Area #cordoned off. Further details shall follow," Kashmir Zone police said in another tweet.
Since Sunday, two police personnel have also been killed in separate attacks across the Valley. While special police officer Tahir Khan was killed in a grenade attack in Qaimoh area of Kulgam district on Sunday, constable Sarfaraz Ahmed died on Monday of injuries he sustained during a gunfight with terrorists in Srinagar the day before.
On August 11, four soldiers were killed and two others injured when two terrorists attempted to storm an army camp at Pargal in Jammu & Kashmir's Rajouri district.
The same day, Mohammed Amrez, a migrant worker from Bihar, was shot dead in Bandipora district. His was the second murder of a migrant worker in the valley this month. On August 4, one migrant worker was killed and two others were injured in a grenade attack at Gadoora area of Pulwama district.
On June 3, a brick kiln worker was killed in the Budgam district.
Personalise your news feed. Follow trending topics