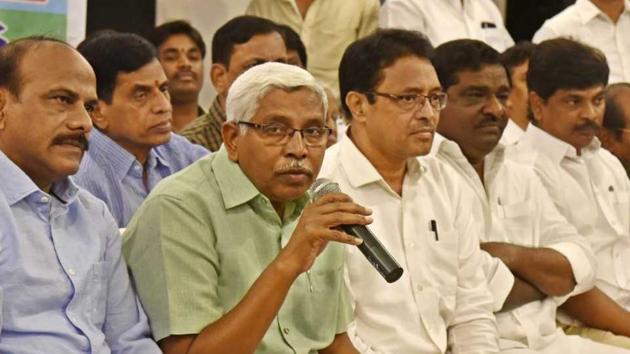 KCR's protege Kodandaram launches Telangana Jana Samithi to 'dethrone' TRS govt
Retired Osmania University professor M Kodandaram, who has been the chairman of TJAC since its inception, said the TRS government's excesses and the stifling of democratic rights forced the launch of a new party.
UPDATED ON APR 02, 2018 05:36 PM IST
The Telangana Joint Action Committee (TJAC), which spearheaded the agitations for Telangana state between 2009 and 2014, transformed into a political party on Monday with the sole objective of dethroning the Telangana Rashtra Samithi (TRS) and establishing a 'Samajika Telangana' (Telangana with social justice).
Retired Osmania University professor M Kodandaram, who has been the chairman of TJAC since its inception, announced the launch of his new political party named Telangana Jana Samithi (TJS). He declared that his party would contest the 2019 elections on its own and won't ally with any other political party.
In February, he had made it clear that the TJAC was soon going to play a political role to speak on behalf of commoners.
For TRS president and chief minister K Chandrasekhar Rao or KCR who is jockeying for a larger national role by actively pursuing a Third Front as an alternative to the BJP and the Congress, the TJS will be a new challenge in his backyard.
Once a protégé of Rao, the 62-year-old Kodandaram said he had been compelled to launch the political party only because the TRS government had miserably failed to fulfil the aspirations of the people after achieving the new state following a long-drawn battle.
"This is not the Telangana state for which hundreds of people sacrificed their lives and lakhs of people took to streets to fight for years. The power has been confined to a few people of a family and the same old contractors and big business houses which had controlled the government in the combined Andhra Pradesh regime were ruling the roost in the present government as well," he said.
The retired professor alleged that there was no democratic space for the people to express their views.
"They can't take out rallies and demonstrations, hold meetings and enter villagers. The chief minister doesn't give audiences to his own party MLAs and ministers, let alone common people. Farmers are committing suicide due to lack of remunerative prices, Dalits and other weaker sections are being crushed with iron hand when they question the ruling class and youth are frustrated as the government has failed to take up filling up vacant jobs," Kodandaram alleged.
He said the party flag and constitution would be announced on April 4. After forming the party state and district committees, he said he would hold a big public meeting on April 29 in Hyderabad.
"We shall fight against the TRS government's anti-people policies and also expose Chief Minister K Chandrasekhar Rao's misdeeds ahead of 2019 elections. We shall go alone in the elections and not have any tie up with any other political party," he said.
The TRS government has been acting tough against Kodandaram ever since he refused to wind up the TJAC after the formation of Telangana but decided to continue it as a watch dog on the government. The government has foiled all his attempts to take out rallies and hold dharnas in the state and tour villages.
At one stage, state home minister Nayini Narasimha Reddy branded him a Maoist sympathiser for his Leftist background and suspected that the Maoists were trying to use him to regain their hold on Telangana. However, Kodandaram refused to yield.
"Though I was not very keen on entering politics, I have no option but to take a plunge because it is the only way I can reflect the people's anguish and anger against the ruling party and provide them a solution," Kodandaram said.
KCR had dismissed Kodandaram in recent press conference saying that he did not have the ability to win even as a sarpanch, let alone run a party to fight the assembly and Lok Sabha elections.
Close